Hello! yes yes, i know i'm like zuper late!
but i've been so busy with school this week.. ahh.. =X
Okok i shall talk abt my bee-zzyyy-ness in the next post! =P
Alrighty. about David's showcase, 11.04.2009!
Woke up at 6.30am.. bro supposed to fetch me and boon sin to sunway..
but he wouldn't wake up! Baaah.. So i asked boon sin if he's okay with ktm..
and so his mum picked me up and suddenly decided to fetch us to sunway! =) yay.! reached the Elephant walk..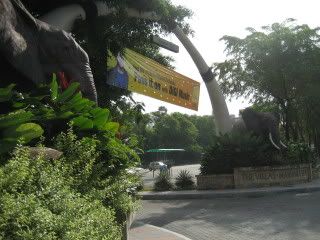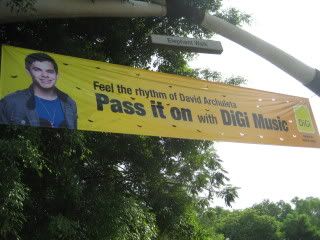 and there was already people lining up! at 8am! omg... =/ And i thought we were crazy. xD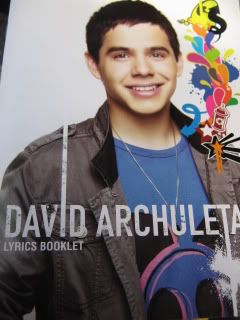 The lyrics booklet tht came with it!!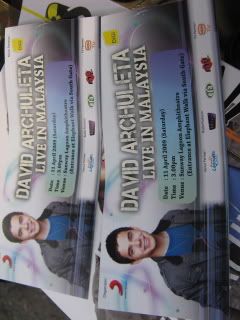 And the tickets! =D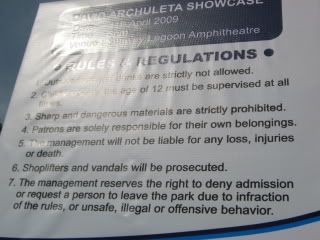 And the thing is.. we havent ate! hehs.. I just had some milo and biscuits. so boon sin walked all the way to the shops near city harvest and ta pao-ed some food.. By the time he came back, alot of people had already arrived and the people infront of us.. kept letting their friends who came late cut que and stand with them. so annoying! urgh. un-fair-ness! btw, me and boon sin were the 3rd group lining up. as in.. infront of us had 2 groups of friends/ppl. So yeah. when it was 9am.. ALOT of people started coming already.. and it started to get REALLY BLAZING HOT!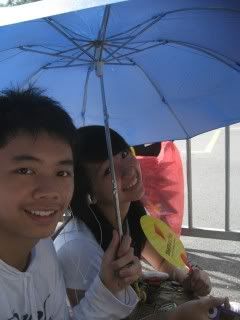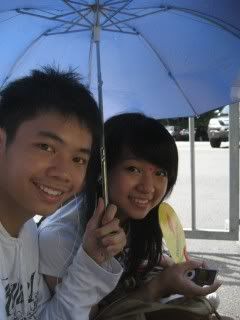 Nasib baik we brought umbrella.. If not. HMM.... =P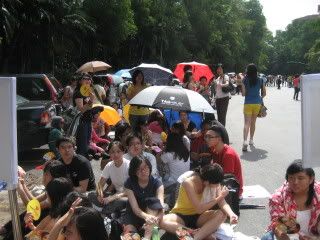 The crowd at 11am..!

The more people, the more heat produced!! it was stuffy..sweaty.. and just hot hot hot!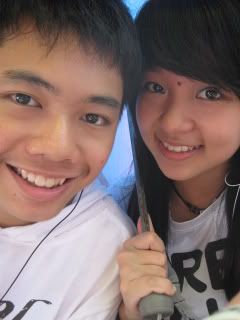 Team Archie from Singapore went around giving out fans with David Archuleta's Picture on it. =D if not for the fans i think alot of ppl pengsan edy. haha...by 11.30am, security people finally came because there were already alot of ppl queing up and its super unfair tht the people tht are more infront keep letting their friends cut que and stand with them! so they were really strict and didn't allow anyone to cut que. which was GOOD! =) made some new friends. =D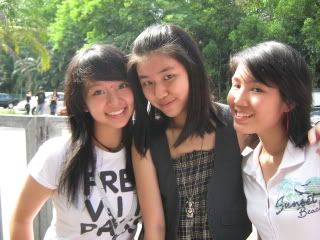 Paul Ling and Rachel. Taman Sea-ians.
a group of girls infront of us tht were from SMK TAMAN SEA.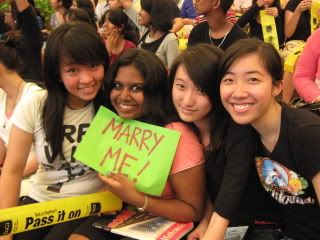 And Priya, Amy and Elizabeth from Subang! forget wht college edy. x)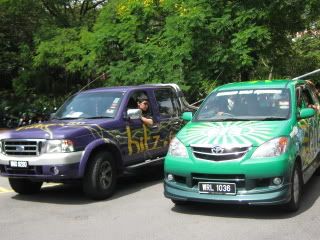 Hitz and Era Cruises
By 12.5pm, they finally started checking bags. coz they didn't allow any outside drinks or food! They checked my bag and said ok. tiba-tiba asked me to come back and took out the cookies i had in my bag! i totally forgotten about em! oh maaan.. i so sakit hati ya noe! i brought those cookies back from Jb.. its something like famous amos.. and they dispossed my cookies! new packet.. untouched!!!! ahhhhhhhhhhh~! and i was keeping em to eat and enjoy it slowly.. ahhh. =( they even asked boon sin to throw away his water bottle. WTH?!! SIAO. Unreasonable people. urgh.So after i finally got through.. RAAAAAAAAAAAAAAAAAAAAAN ALLLLLLL THE WAY to the amphitheatre which was SUPER far away from the gate they let us in.. It was like cross country i tell u!! by the time we reached the amphitheatre, everyone was sweating like craziee!! Me and Boon Sin got the front sit!! wohooo! =P

the board boon sin made! tht caught alot of the camera's attention! =P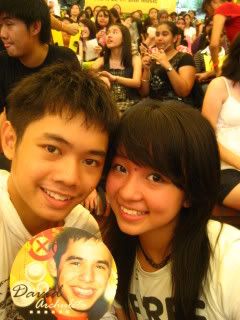 The Fan from team archie!
we sat beside the PA system place and camera area..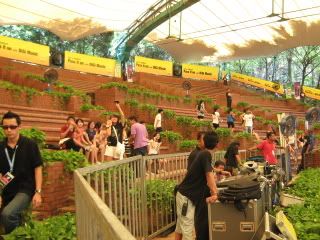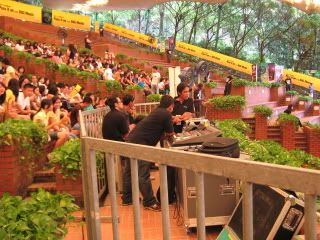 we got in by 12.50pm and waited till 3pm!
the showcase suppose to start at 3pm but knowing MALAYSIAN TIME.. it only started at 4pm.. and David Archuleta only came out at 4.30pm! ahhhhhhhhhhhhh!!! the fans were becoming restless and crazyyy! PLUS they kept playing the same CD of songs over and over! they CD played about 5 times man! and there were like more than 10 songs in the cd. BORINGGG! So made friends with people beside.. behind and yeah.. people la! hahaha.. =P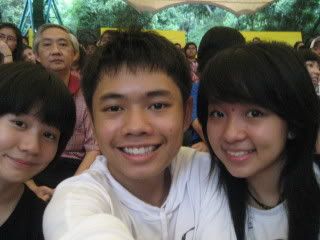 Felina Kang.. sat beside us.. =D 17 as well. =)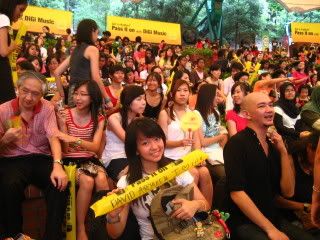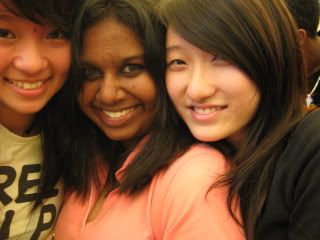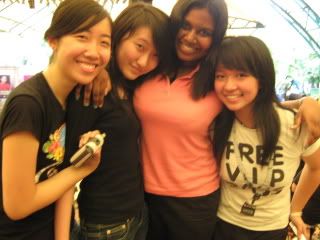 Elizabeth,Amy,Priya,Celine!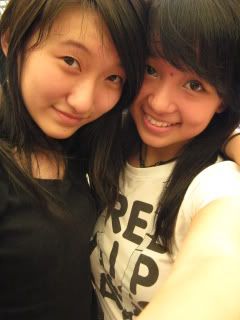 Amy! hawtie. =)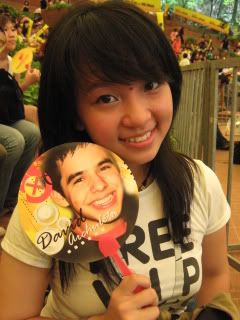 =)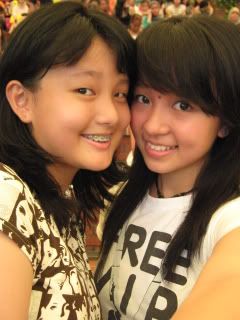 I met roxanne there! =) mua cousin. =))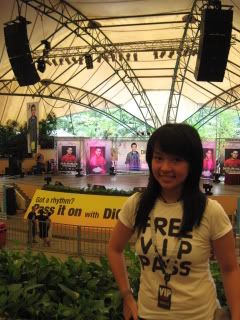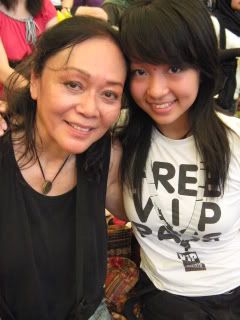 Trace! A super young at heart mummy! haha.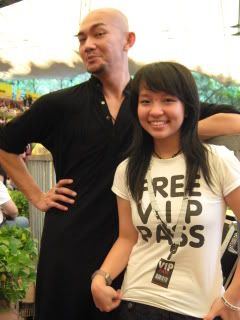 Edwin. Local theatre performer. Famous in msia. i think.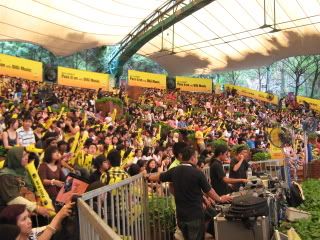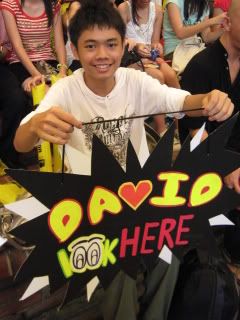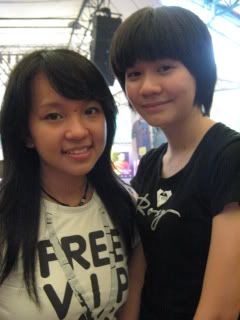 So at 4pm.. JJ and Ean started the show..
and "Hao Ren" from Astro Talent Star Quest performed.. 2 songs..
some akademi fantasia (i think) guy performed 2 songs..
and Daniel Lee from Malaysian Idol performed 2 songs..
I pity the malay dude from akademi fantasia. ppl boo-ed him and requested for david ! ahh.. embarassing.. but the crowd really welcomed and supported Daniel Lee. =) in the meanwhile, JJ and Ean gave out goodies and david's album! ppl had to sing.. or answer questions. and Ean kept coming to where we sat coz.. its the front row i guess..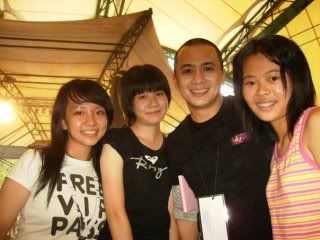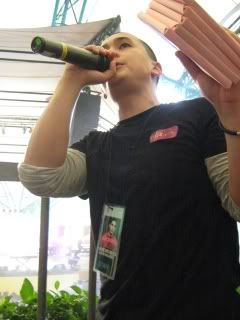 Ahhh.. a handful of albums right infront of me!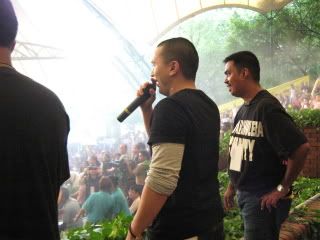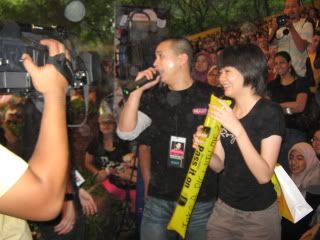 Got interviewed by Hitz.Tv/Era and Hitz.Fm Morning crew. Omg. the hitz.tv interview was so memalukan!!!! I WAS SO CRAZZY AND HYPER!!! coz he interviewed me when david archuleta was about to come out! and i was GILA-ING! the interview went smth like this.. the hitz.tv one..


Suffian. The guy tht interviewed me. =D

Hitz: Excited?
Me: WHOOOOOOOOOOOOOOOOOOO!!!!!!!! i'm so excited! I cant believe David is actually HERE!!!!
Hitz: Whats ur favourite song?
Me: A little too not over you! ( actually i wanted to say Your Eyes Dont Lie)
Hitz: What are u hoping from the showcase after this?
Me: I really hope to meet him in person and take a picture with him! =P
Hitz: Alright..have fun! =) Make some noise!!!
Me: Whoooooooo! DAVID I LOVE YOU!!!!!!
Hitz: *shows thumbs up*

Oh maaaan! when i look back at the video i'm like...........=.=! thts so not me! thts some crazy fan! hahahahaha.. gosh.. hw i wish i did sumthing else on National tvvv! BLEHS.

FINALLY, David Archuleta came out and sang his first song! A little too not over you!
Then he sang Touch My Hand.
His 3rd song, Dont Let Go.
And supossedly last song, Crush.
He was only supposed to sing 4 songs, but when he left the stage after the song "crush" the crowd went crazy! and kept asking back for david! the wait was just TOO long and all of tht for just.. 4 songs?!!! so with some last minute plans, David came out again and performed 2 more songs for us! Wheee~! =) he sang a thousand miles and Angels while playing the keyboard! ahh.. mesmerizing! =P during the last song.. i just stopped singing along.. stopped screaming .. stopped focusing on recording and just enjoyed.. his last song for tht day. =) amaizing! =))
After the concert i finally got to meet up with Sharon aka My cousin! =) Wanted to meet up earlier but the hall was so pack tht .. i couldn't get to her from where i was. haha..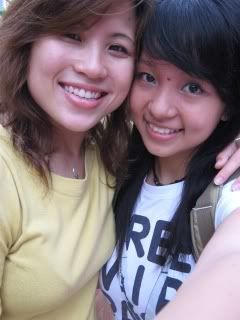 Sharon Jie. =) she works with astro too.! =D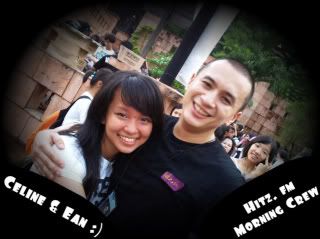 Ean from Hitz.fm morning crew! =)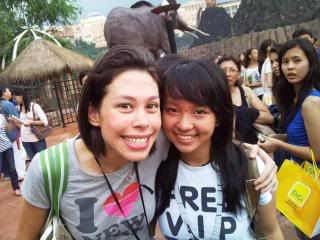 Natalie from Hitz.fm Drive Through! =)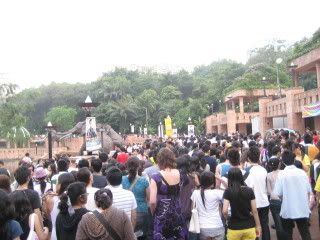 Jamming out to the elephant walk..
It started to rain REALLY heavily and.. Sharon,Me,Jay(her collegue) and Boon Sin had to walk from the elephant walk all the way to Sunway pyramid!! Again, Nasib baik we brought umbrellas! rain or shine! we need it man! hahaha.. Reached Sunway Pyramid and Sharon jie belanja-ed us to DeliFrance! wheee! my first time eating there! hahaha.. =D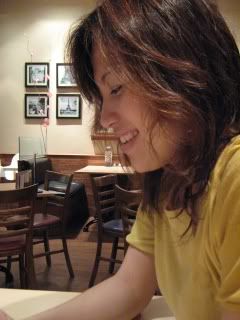 Sharon! Candid =)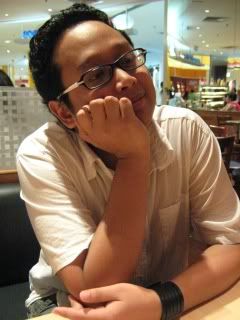 Jay, Candid. =D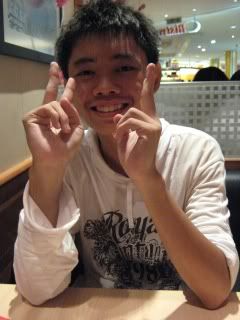 Boon Sin! Un-candid. xD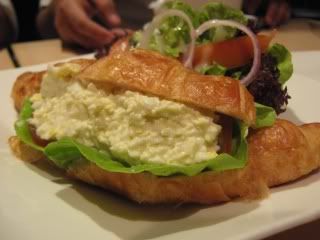 Her Egg Divine or smth. forgot the name. x)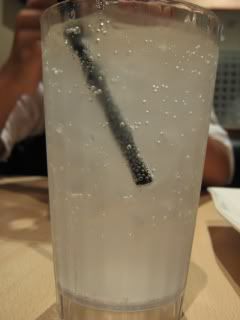 My Bottomless Drink. =D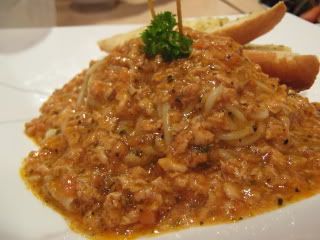 And mwa pasta and garlic bread! =P i know.. it looks.. not so nice.. hahaha.. but its nice! =)

So yes! That was My day. =) After Deli France Sharon and Jay sent us home. aww.. how nice.. =)) Died on the floor when i was waiting for the water in the bathroom to fill.. can u believe it?! i fell asleep on the floor.. hahahaha! and tht time alot of ppl sms-ing me.. i dunno why.. and i replied.. or not.. cant rmb.. x) funny la. hahahaha.. I was sleeping on the floor in the computer room while my brothers just kept on gaming. haha.. funny.. So yeah man. there u go. =D i was uploading videos to youtube but my com restarted. T_T nasib baik this post was saved. if not i'd be pretty mad! =PP
- A Day to Remember =) -