Went to school in the morning, and i was sooooo tired! slept at 2am! O.O As usual, coz of pmr, we had bengkels and was stuck in the library the whole day. the first half of the day was alright. was pretty stoned tho. hahaha. after recess was when i gained back my energy and went all hyper! =P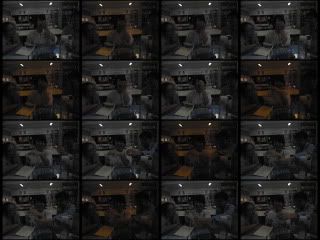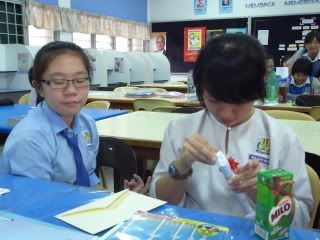 After recess, benji and sharvin passed me a birthday card and said it was from the guard. =.=.. i tot they were playing around and tot it was probably from one of them.. but when i opened the card, it was actually from Chaur jang, a friend from tuition who studies in SMK Kepong Baru. lol. a guy in tuition i just met.. quite recently. Anyways thank u chaur jang! it was nice of u to have come all the way to my school to pass me this! =) then desmond came with a milo box and a present and said it was from someone. i was like hmmmmmmmmmmm? then i opened it and it was sweets in a pencil box. hahahahahaa.. i was craving for milo then, really!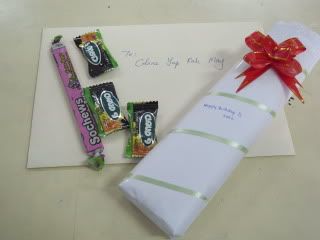 Thanks Mar and Des! =D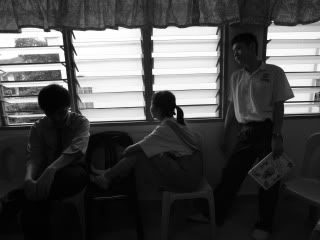 Before u continue reading, heres an introduction to the 3 main people. hahahaa. Kok Sime, Khai Yein and Boon Sin! Let the pictures begin~!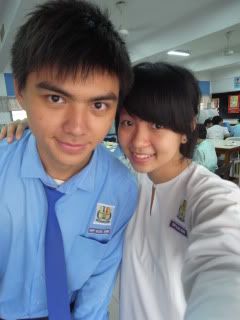 Kok Sime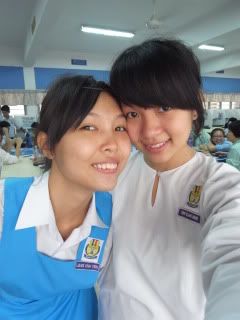 Khai Yein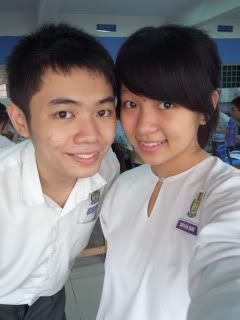 Boon Sin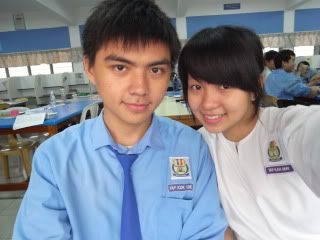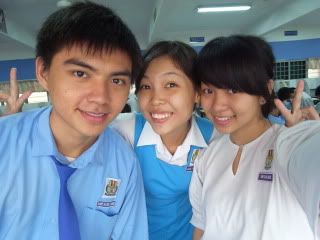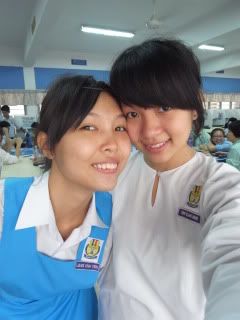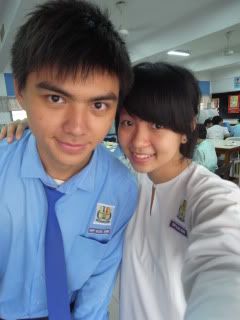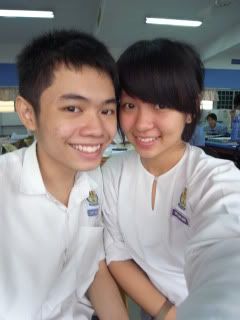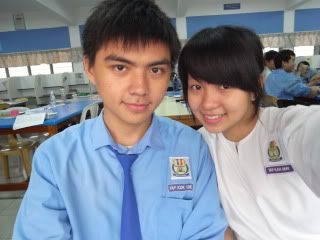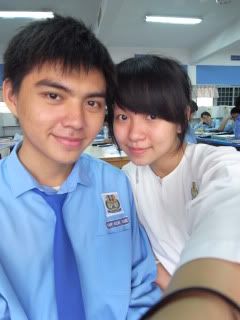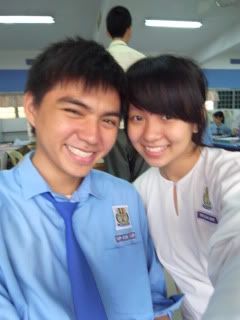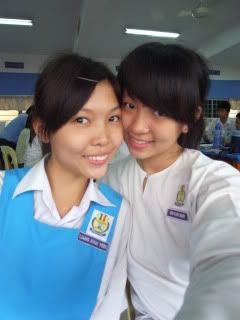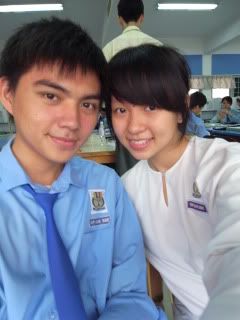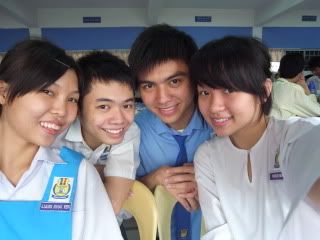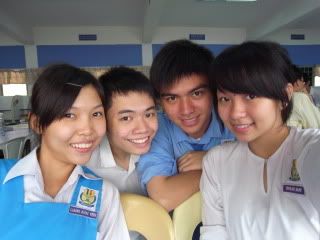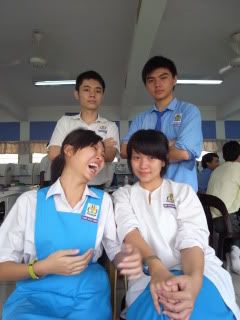 Khai yein! we're supposed to be serious here! xD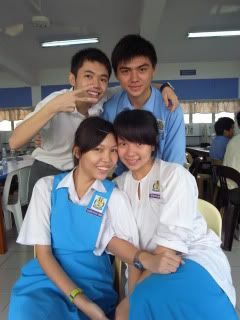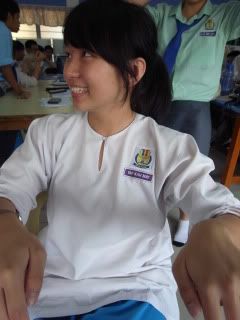 Candid by weng yee! xD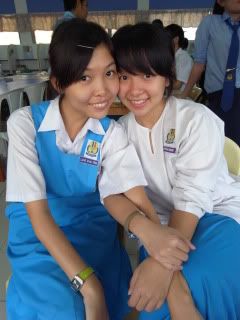 I couldn't have set with a better class partner! =)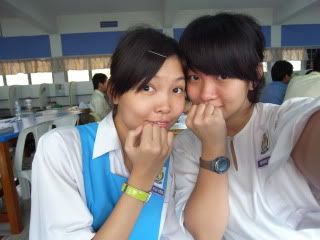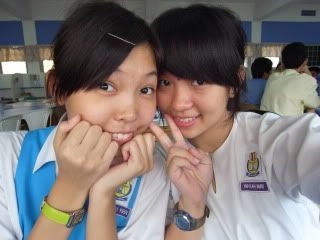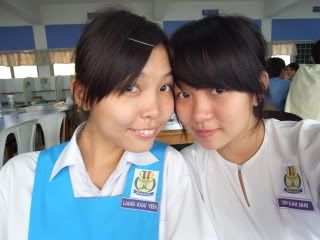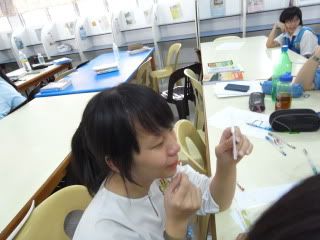 Maggie, i hate putting on lipsticks, but this is just for you!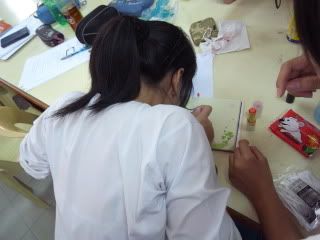 Muaaacks!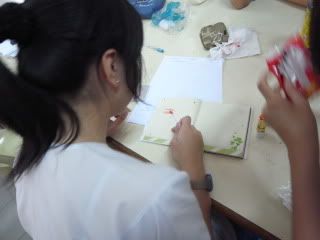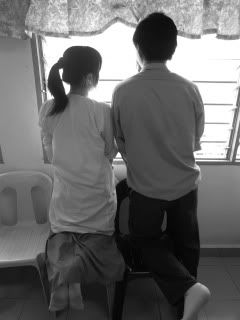 Haha.. we were talking. lol. i know its a weird position. kneeling and talking, but yeah, we were looking out the window. xD Boon Sin snapped !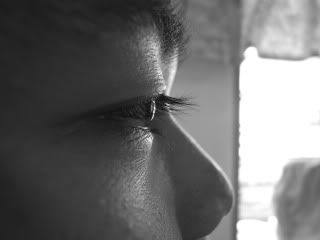 Chi Wing and his looooooooong eye lashes!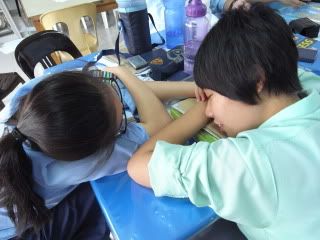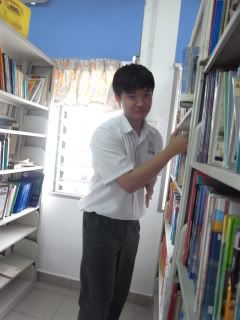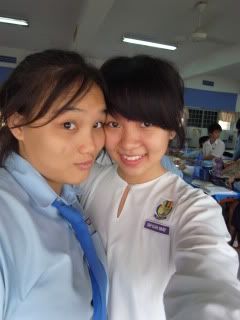 Marilyn darling!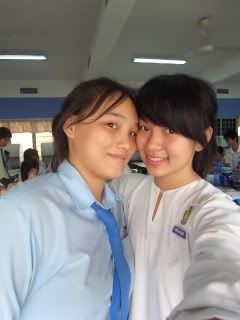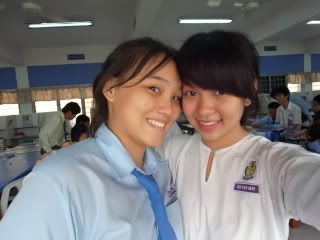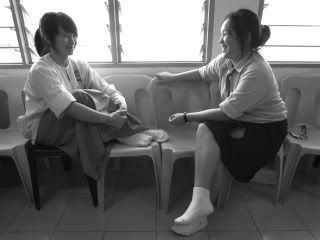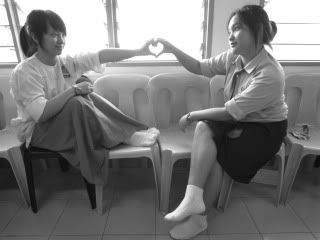 Awww. Love makes the world go round!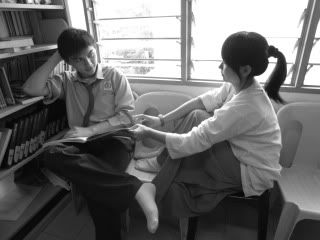 If u looked closely. Kok Sime actually gives u that model feel. hahaa. seriously! look at his face, eyes and all.. if u saw the pic in a bigger form u can seeee it. hahaha.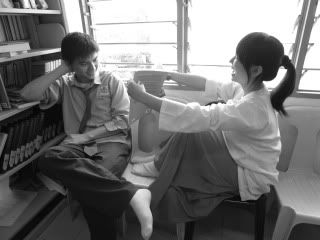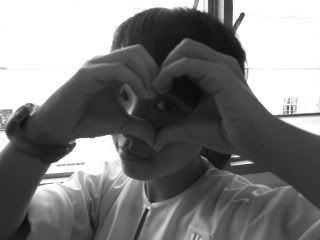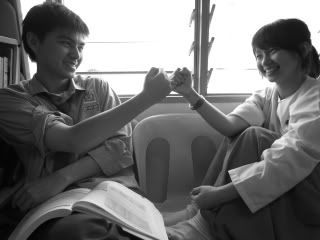 I like this picture! =) very friendship feel. hahaha..and we were really laughing. so it makes it all the more nicer! candid. =)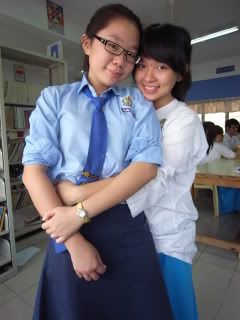 Awww. =)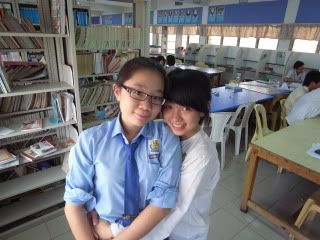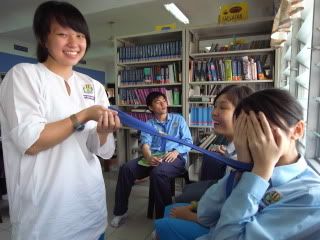 Interesting pic. check out kok sime and khai yein. hahahahaa.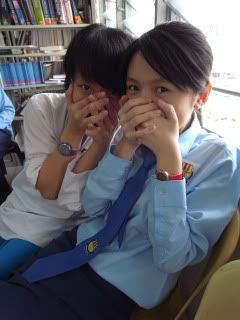 =X

When i went home, i was really happy because i saw more smses ! hahahaa.. but the sms that really made me smile from ear to ear, was a sms from

AARON ONG!

omgoodness!!! I received a sms from Australia!! hahaha.. it really made me happy aaron! thanks a million and bunchesss!!! =) really thoughtful of u! hahaha.. and hey! i still wanna know hw much it cost! =)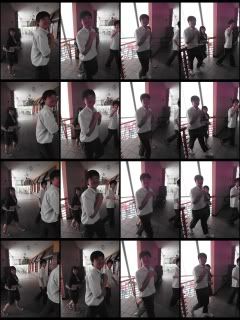 Boon sin was waiting at the lift and snapped the minute we walked up. haha

After school, dear classmates , fish, mey eun, di shen, boon sin, kok sime, khai yein, maggie , jian yi and TJF planned to go pizza hut to celebrate my birthday! =) But but when i reached there! wai king, parkson, ernest and chelsea came too! i din even noe TJF would be coming. hahahaa.. =) happy really! carmen came later on as well!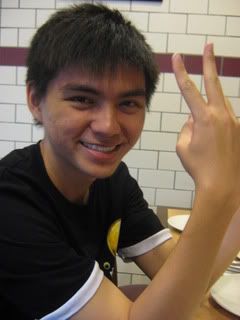 Actually he dont wanna take picture one. but its my bday so.. =) Nyahahahahah!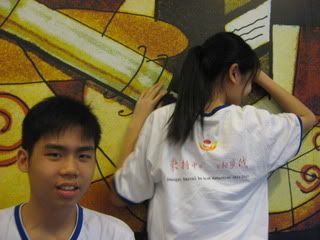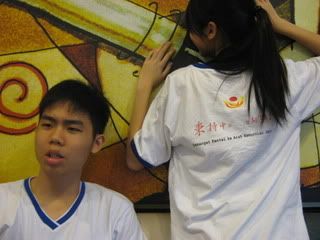 Mey Eun doing some sexaaay pose. hahahahahaha..
actually she just wanted to evade the camera. =P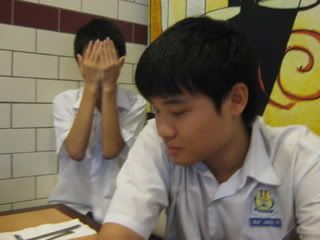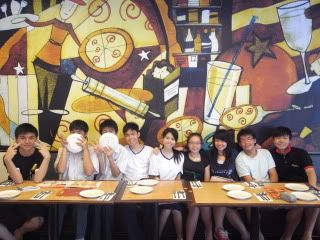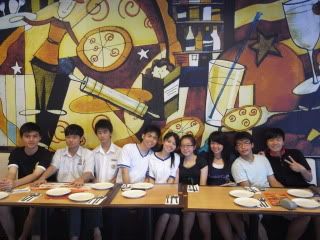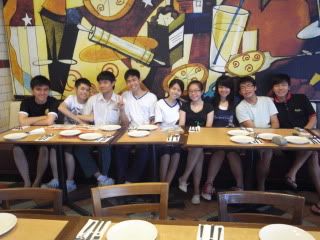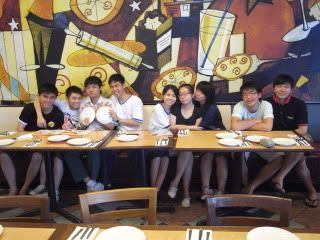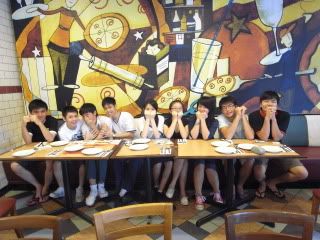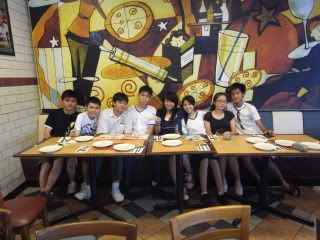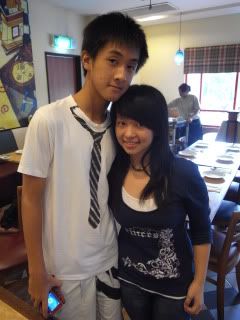 Chelsea. =)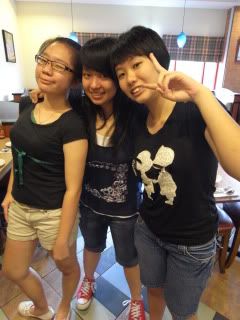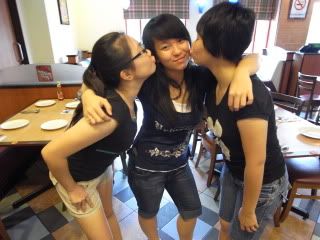 Jia Yi and Maggie!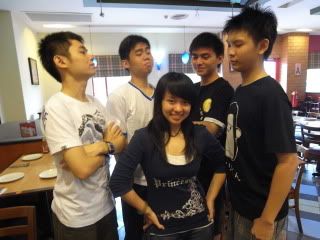 Kes Buli! xD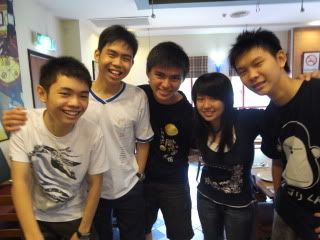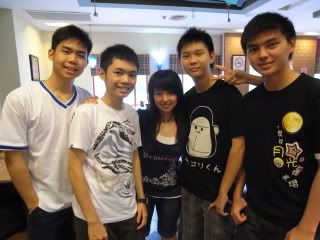 TJF's hand mengacau!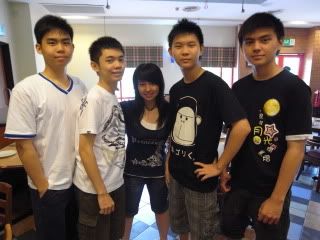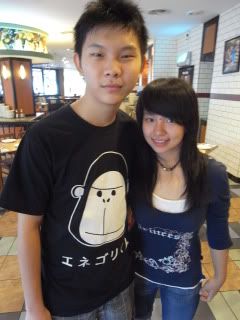 Ernest =)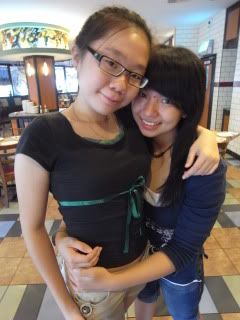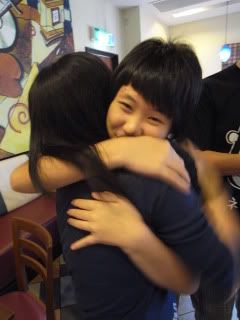 Then she had to leave! =(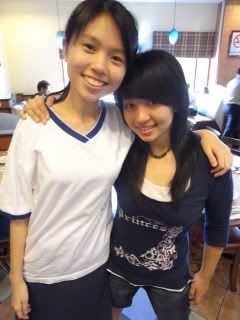 Mai Yun!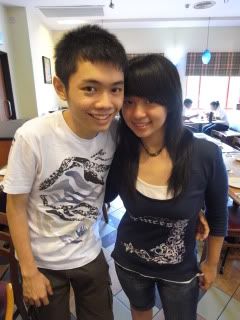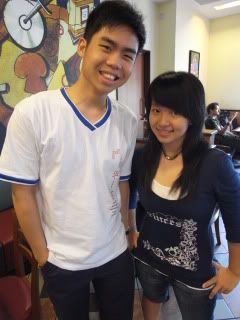 Di Shen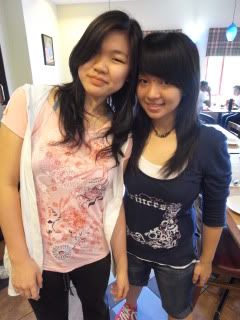 Carmen!

Then some drama happened. khai yein tot there was a pizza hut in jusco so she went there. and realize got no pizza there. she din noe where we were and she had no credit so she tot she'd wait there hoping someone calls or we go jusco soon enough after eating. but it didn't happen. coz we tot she was wit her bf.. and they were late.. coz caleb havent show either. then she used her last rm10 to reload and called me.. after waiting for 1 hour and 30 minutes. she walked to carefour pizza hut form jusco but we were at the one opposite carefour. she got really frustrated and kok sime quickly went to carefour to bring her over. emotions rushed and by the time she reached she burst out in tears. the atmosphere totally died. and i consoled and comfort her.. then we headed to jusco. by then she was better edy. we headed to secret recipe to eat cake! =)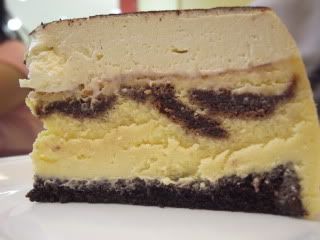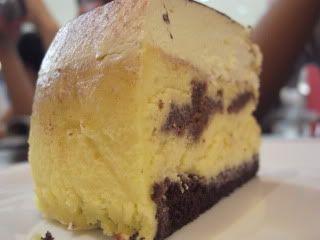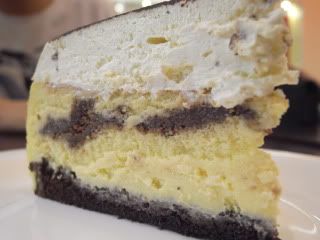 Classic Cheese babeh!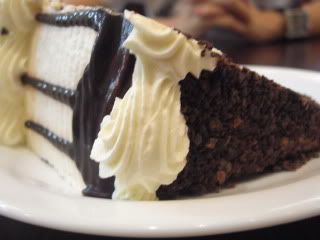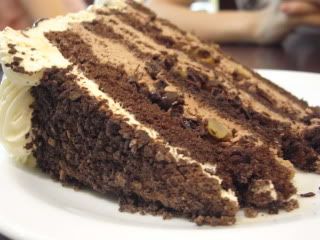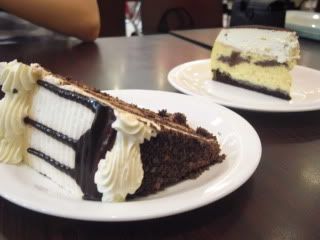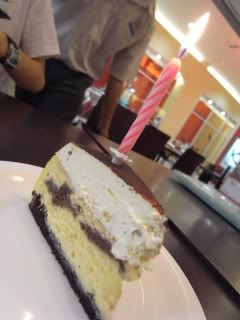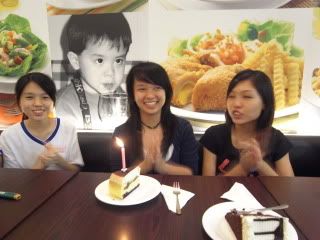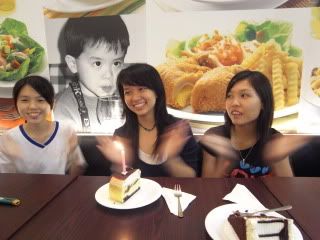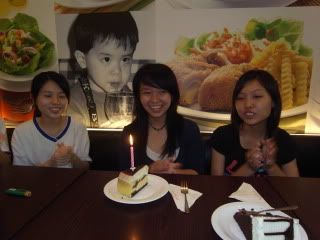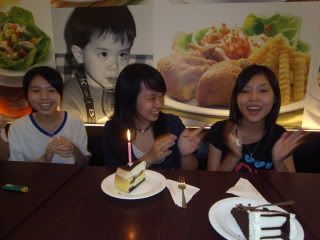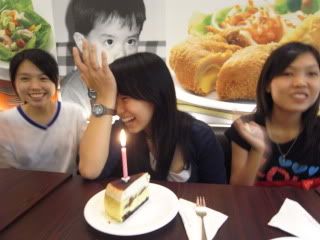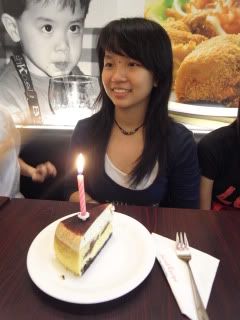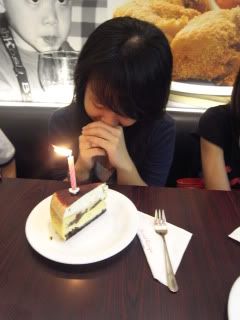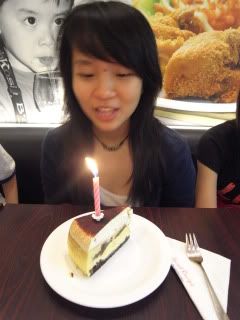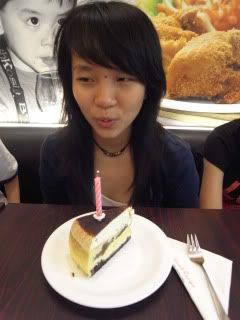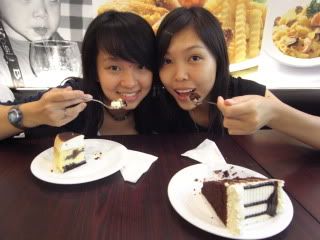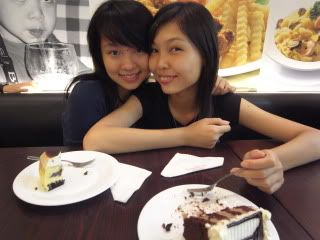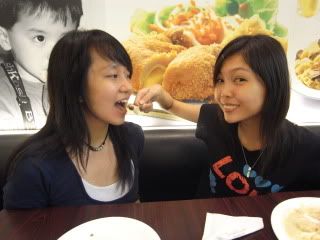 Khai Yein Dear thank u so much for coming and sorry u had to be stranded for so long and u had to miss tuition. like i said, i couldn't have had a better classmate to sit next to every single day. =)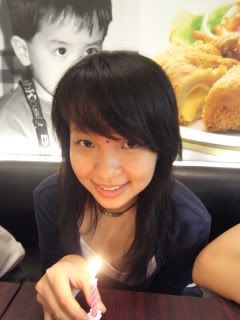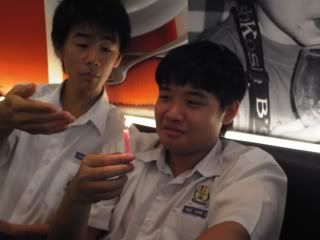 Tjf and Jian nvr see candle b4. xD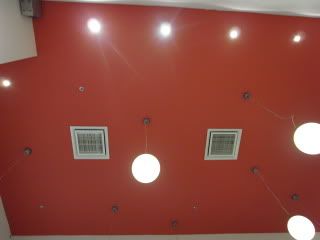 The ceiling was niceeeeeeeee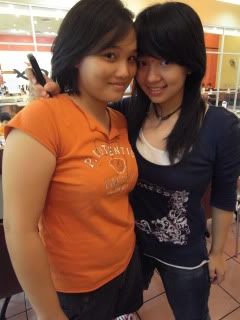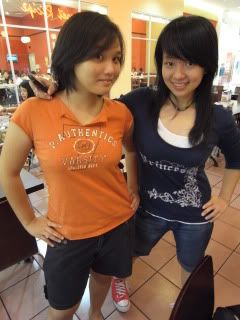 Then marilyn passed by secret recipe! haha. =)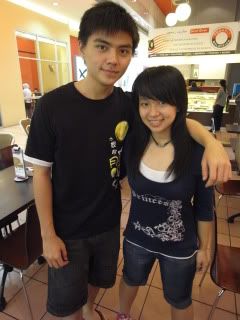 Thanks kok sime for paying for secret recipe. =)

They left and rushed to tuition. Me,ky and boon sin were left.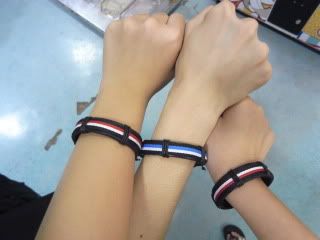 If u still rmb, last year kok sime, me and dick shen went to jusco as well on my birthday.. and to rmb the day the 3 of us bought smth .. a string and hung it on our pencil case. =) this year we did the same but this time, kok sime, me, khai yein and boon sin got it. =) we bought this! sorta like bracelets or smth. haha. =)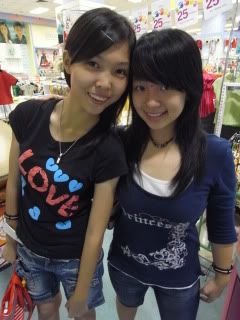 Khai khai looks so pretty here. =)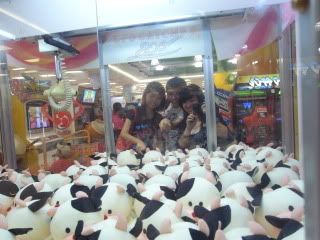 Mooooooo~!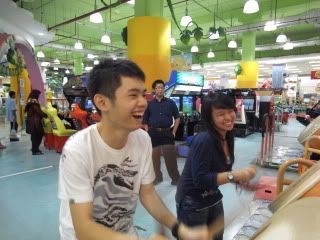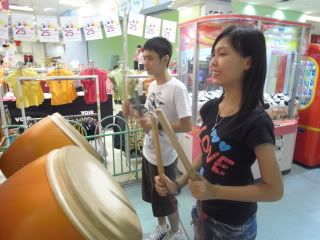 Whee! havent played this in ages!

After ky left boon sin bought me my present! =)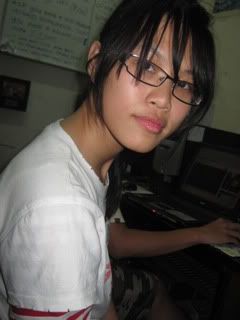 So anyways, kim came with her friends all the way here just to pass me my present! O.O! summore it was the first day of her A Levels! goodness! Junior,May jean and lee tat was with kim. junior fetched us home and kim came to my hse! =)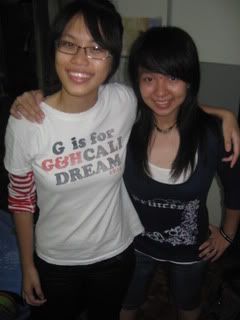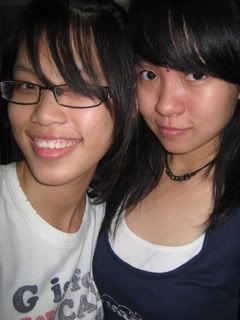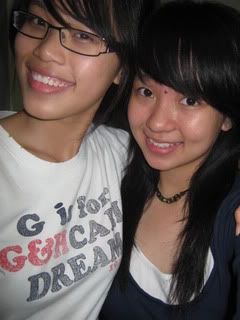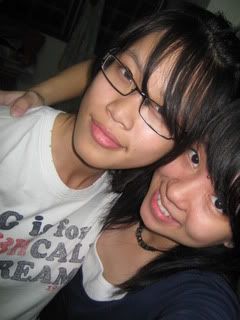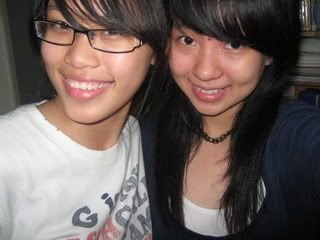 Kim and I just layed on my bed and chattt away. =) it so funny how i did almost the same thing last year! just that i was with different people. haha. last year after jusco, i was so tired i layed on my bed at the exact time of the day.. and benson came back from JB and gave me my presents from karyn,kim and bryan! but this year!! kim was with me! =) and it was just so nicee having her with me. got to catch up. but i was really dead and tired. so sorry darling! but u noe i reli enjoyed u being with me, right? =) mwhsss!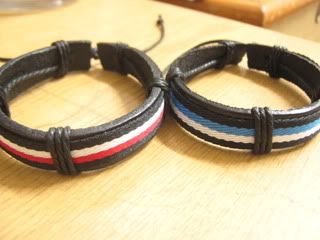 Mine! and Kok Sime's! haha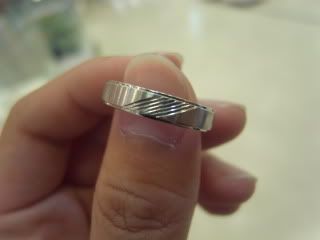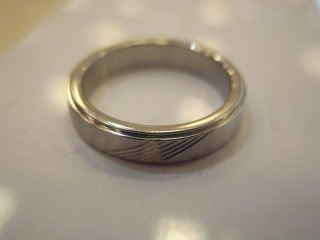 I've always wanted this! hahaha.. thanks boon sin! =) stainless steel plain ring. =D

Then kim left at 10.30pm. and when mum reached home..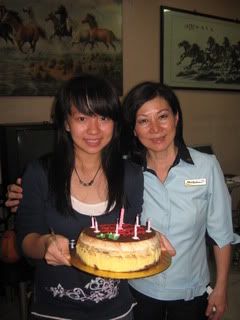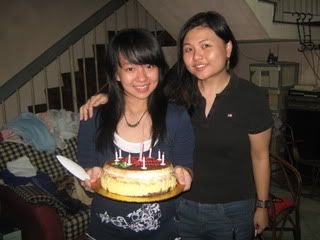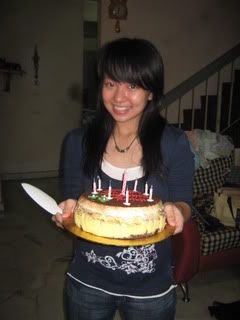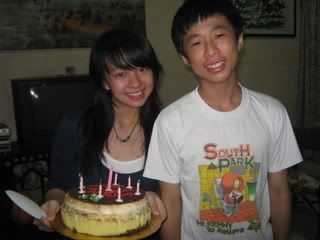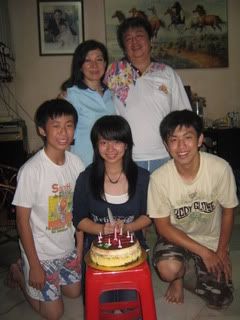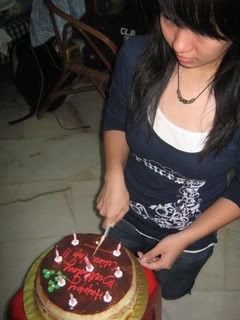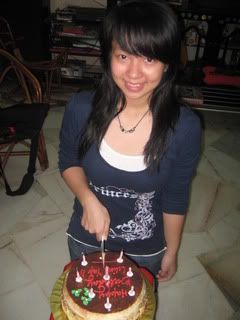 They suprised me with a birthday cake! this time, classic cheese as well but a whole cake! O.O!!! =))))))

Thank u so much for the cake mummy!!! =)
now, here are my presents! =)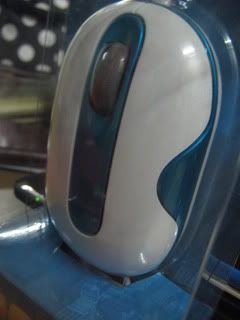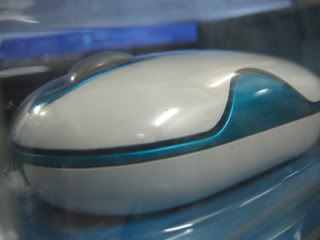 From BB! thanks alot BB! he tried to find purple for me but he couldn't. awwww. =)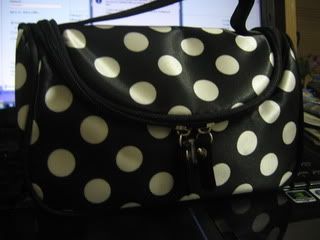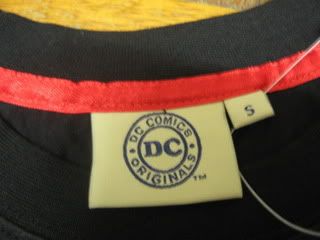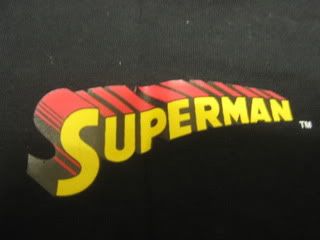 Kim and Benson gave me this bag and in it was a superman shirt from DC Heroes and 3 pairs of earings! thank u so much u both i've wanted a SUperman shirt for very long edy! hahaa. =)

and rmb me mentioning about my new toy? hehehehehehe...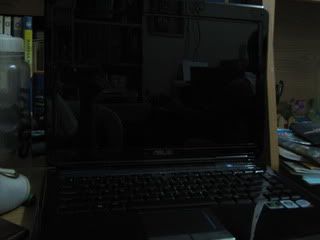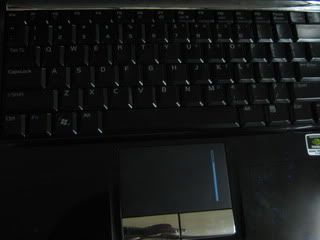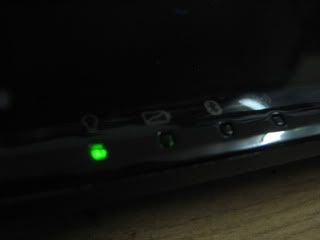 And YESH! I KNOW! hahahahaha.. i got a laptop from mummy for my birthday!!! THANK U SO MUCH MUMMY!!!! =) she stood and sell milk powder for a whole month to get me this! Sniffx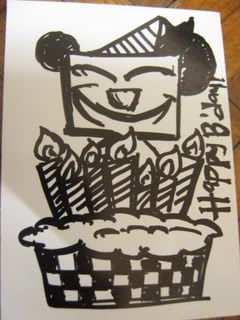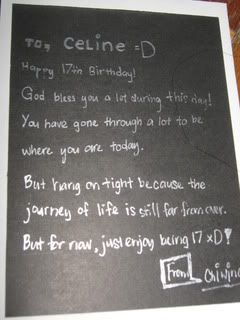 Hand made by chi wing!!!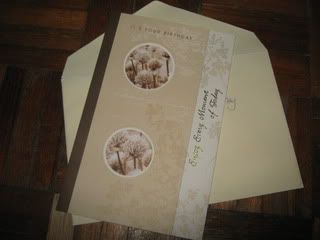 From Chaur Jang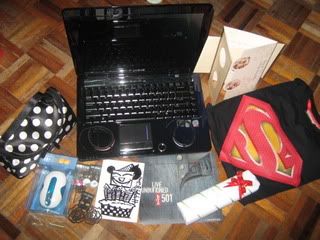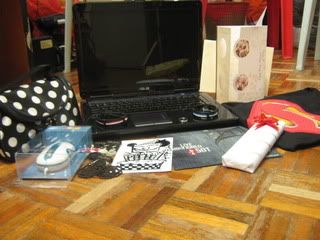 My Presents. =)

U've no idea hw long i took to finish 11th and 12th of oct. xD u wont wanna know! =P
Okay. Its time to study. =P
Thank u everyone that made my birthday a happening one! Hugs and lots of love to u guys! and most of all, thank God that he gave me such wonderfuly family members and friends up to 17 years now. =)

Celine Yap Kah May is finally Seventeen!! =)
xoxo