Okay. so i decided to blog. aha. so b4 camp started on the 6th, after church we went for lunch at Sg.Besi. =)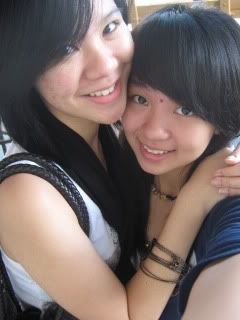 Then jie came with parents joshua and Bb to pick me up so that i can go home and study chemistry while everyone registered for camp. sad sad. =/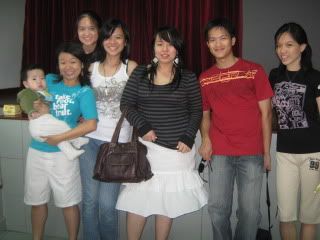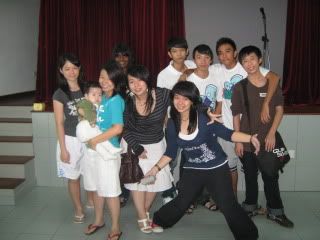 when i was studying all i could think of was camp. i would suddenly day dream and think of camp.. wondering wht they doing now and all.. wondering how is andrea and sheryl's dance like.. wht music they use and all.. distracting or wht?! haha.

so right after chem paper i left for camp. chem was hard.. in my opinion but whtever. its over. ;) this post is suppose to be abt camp anyway. =P So yes, reached camp hoping for sum1 to teach me either andrea's or sheryl's dance but everyone was pretty dead. learned abit from andrea. =)

Next day, 9th, wed.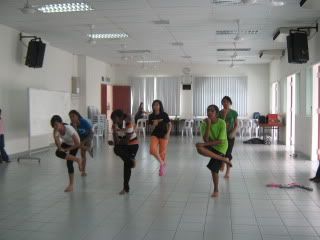 I taught my dance. the rest of my dance. =D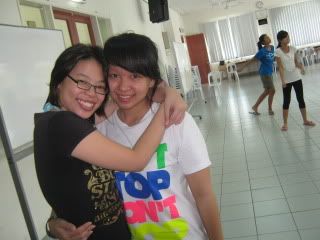 sheryl dear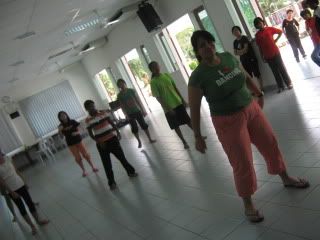 andrea dancing brave, her song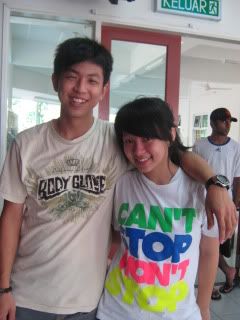 Benson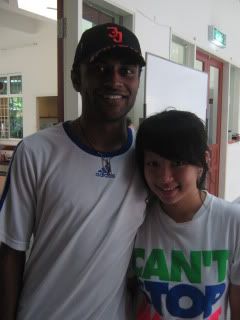 JJ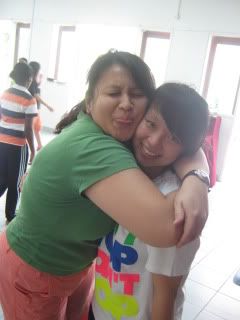 Andrea! =)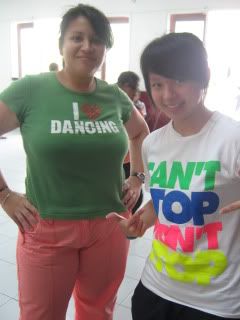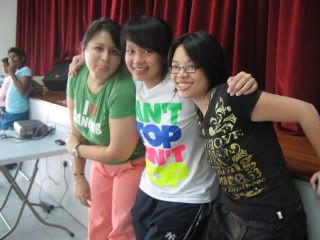 Dance trainers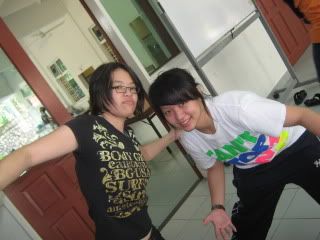 Yo!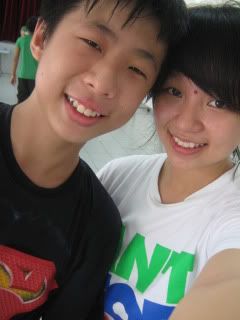 BB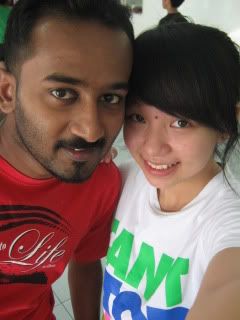 Sugs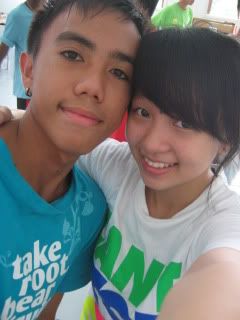 Joe Ong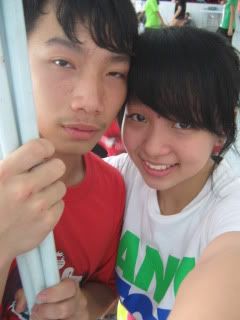 Sleepy Jon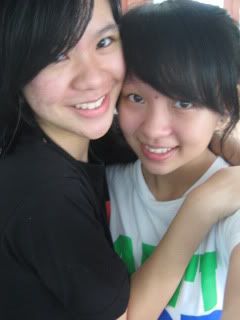 Camp Com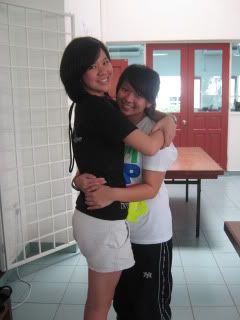 My darl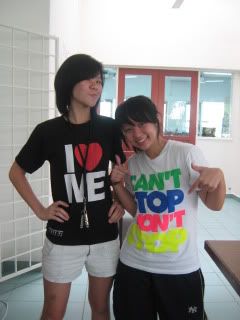 And our lovelay teees! =P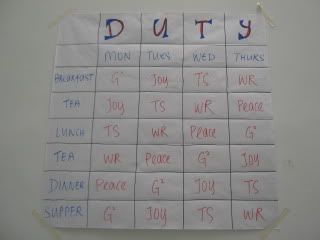 DUTY roster. lol!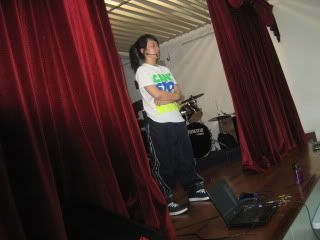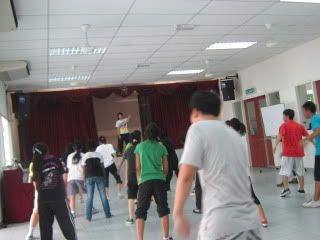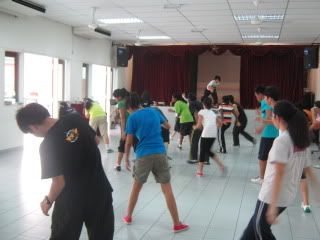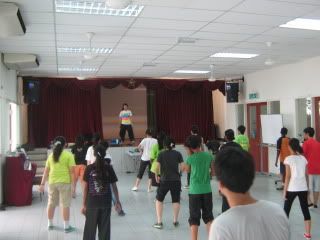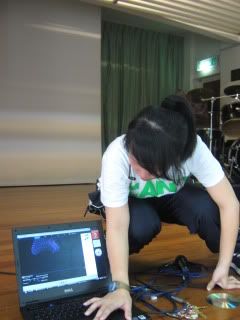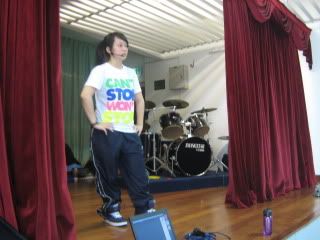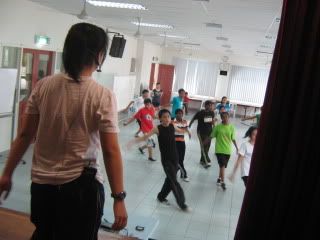 During my session. =)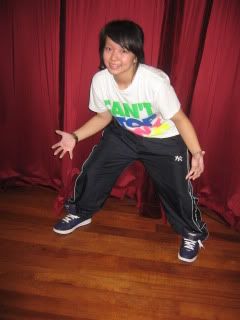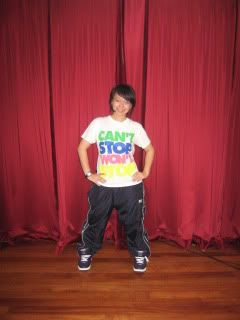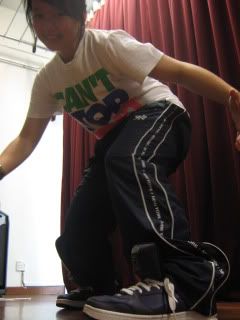 Thx benson for the pictures! =)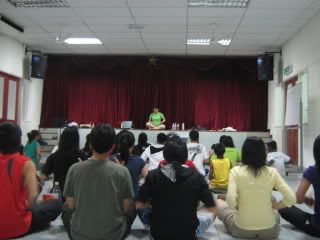 At night qian taught us we are the reason but a new version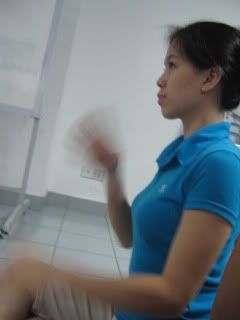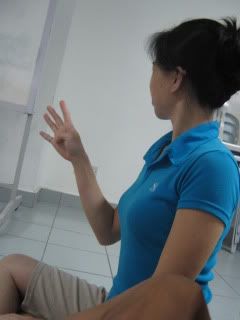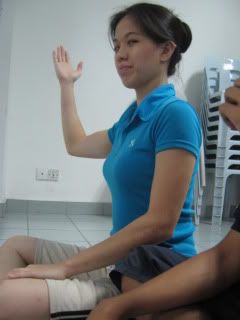 Janning dear. =) doing qian's song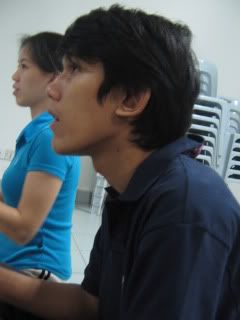 aha. aaron learning also. =]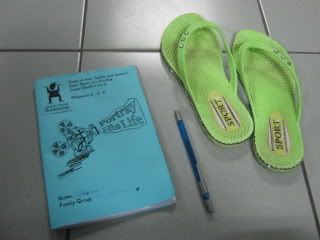 Nth else bettr to do. =P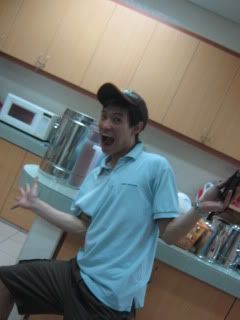 tristan! =)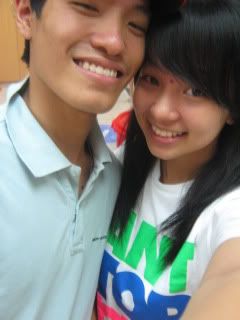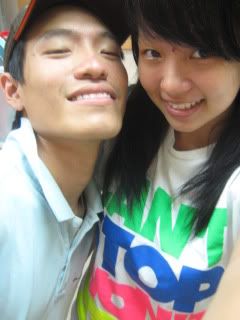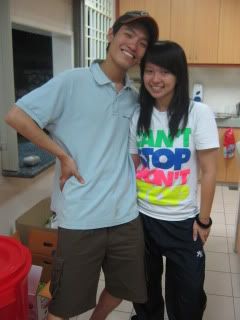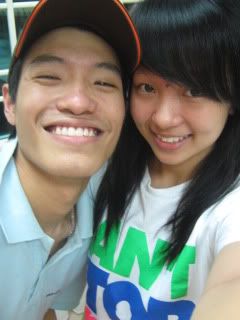 A chef from new zealand and a ball of light the minute he steps into the room. =)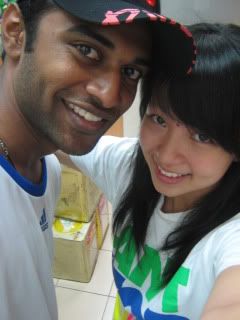 JJ ex camp com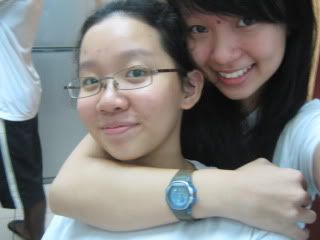 Michelle dear! spm-er no more! wheee!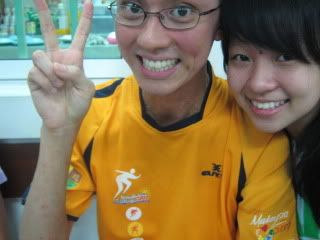 Davin!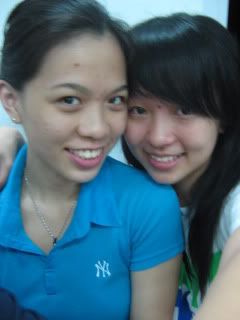 Jannn =)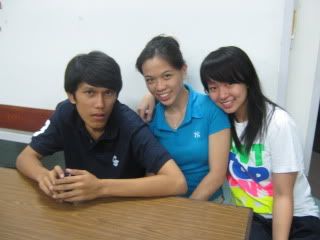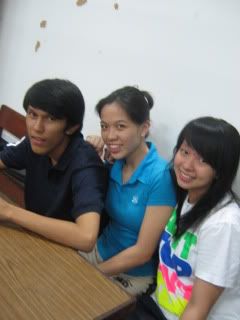 =)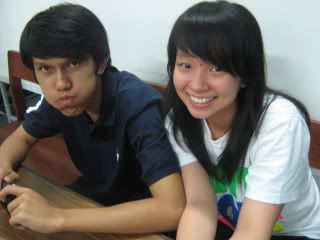 Aaron act cute! =P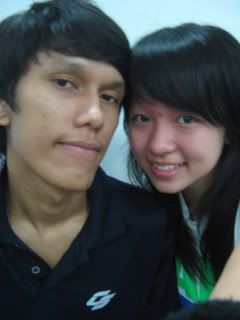 =]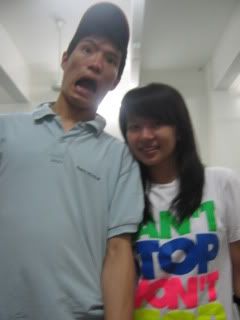 poser. ball of light indeed. hahaha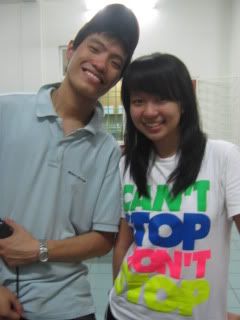 =]

At night was crazy. coz after putting all the girls to sleep, i learned sheryl's song till i think 6am or smth only slp. so slept for an hour only. O.O coz i was in the core team and needed to learn wht i've missed. so yeah, during the day we're too busy training campers so we have to train ourselves while they're sleeping.
next day,10th,thurs.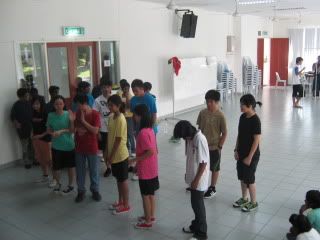 costume change babeh! funnest part. haha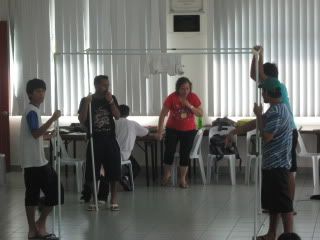 Log team. they had to hold the poles. lol! so i managed to catch candid shots of all of them. SEXY ones mind you. =P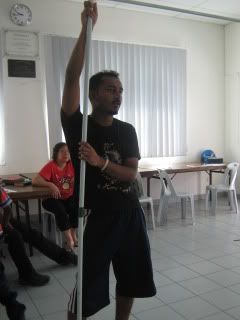 Sexay no.1! Sugin!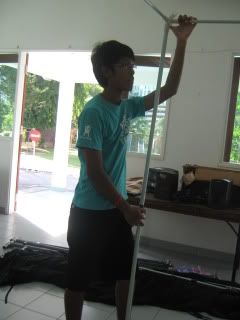 Sexaay no.2! alex!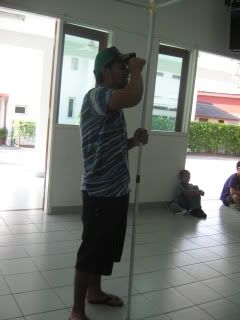 Sexaaay no.3! Yogan!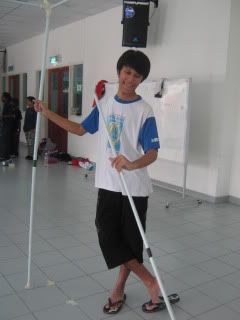 Sexaaay no.4! Aaron!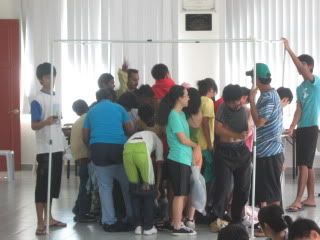 had fun guys? =) i know i did during my first time in 2007 doin costume change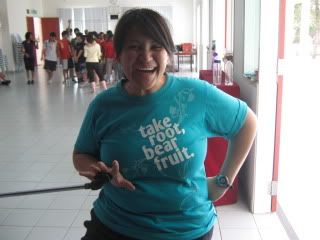 theres a story behind this picture. right andrea? =P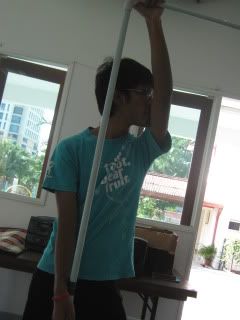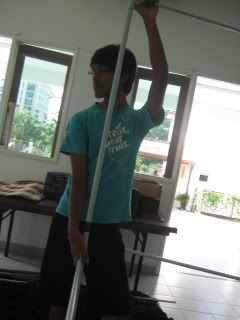 Check out more sexaaay pics of alex! =P
smexxxy oooo!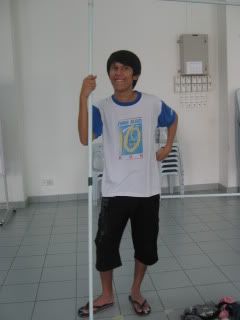 Haha.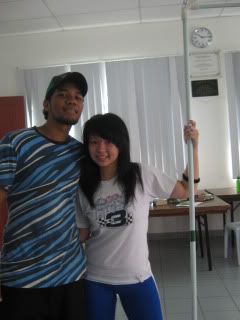 yogaaaan =)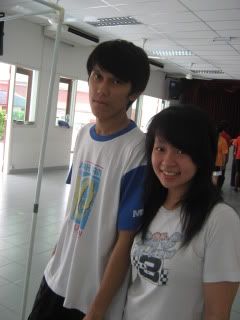 aaroonn.. =)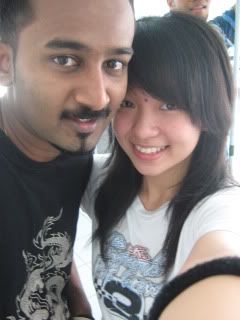 Sugin! i like this picture. so white!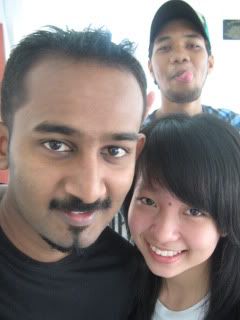 lol yogan...=.=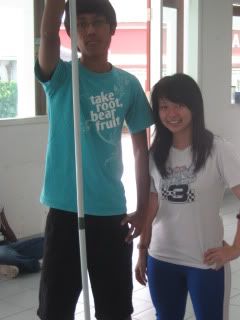 okay. i know. height. two heads sho waaat.? =P i aint short. he's just tall man. =)
so after all those we had hardcore training and prac.. and was super exhausted by the end of the day.. at night we had comissioning night and we performed for the parents. our first performance.. felt so nervous but it went well! =)
Next day, 11th,friday.
the first day of outreach! i was in team B.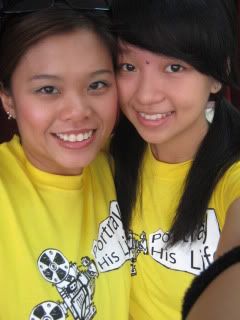 Sharon =)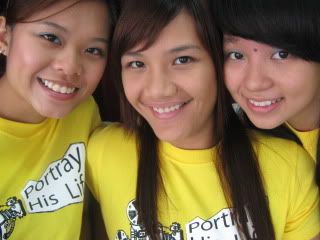 sharon.dorothy.celine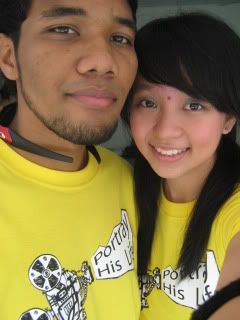 yogan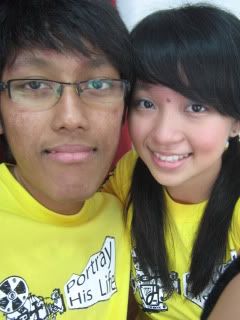 Alex!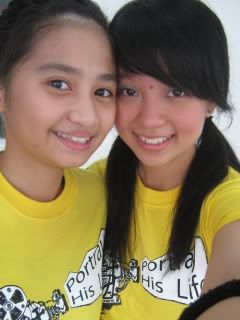 chelsea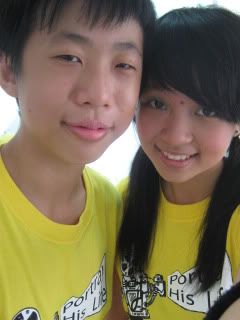 BB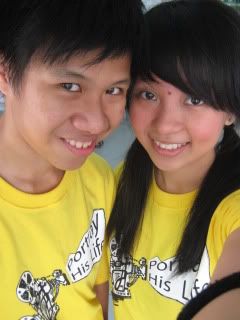 Joel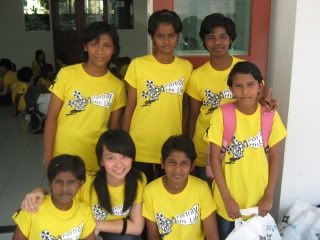 St barnabas kids. the kids from homes. =/ they had to leave on first day of outreach and that was really saddening coz they suppose go back at night but the uncle misunderstood and came in the morning instead. so they didn't get to perform. =(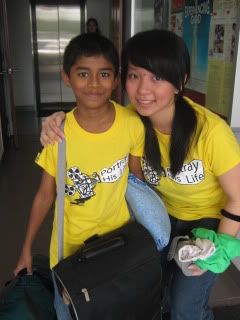 Siva from my family group!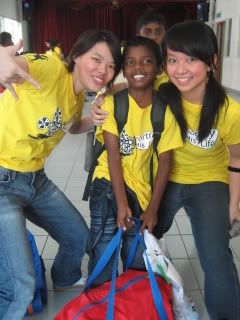 Pavi! the cutest lovable adorable boy. =)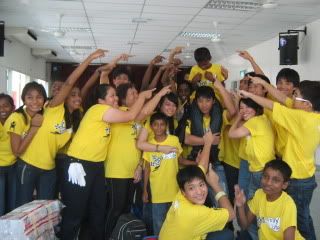 was sad seeing them cry as they left. =/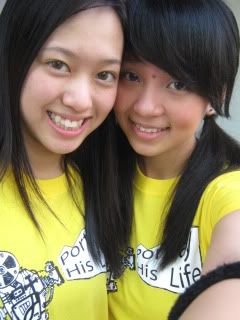 natasha darling!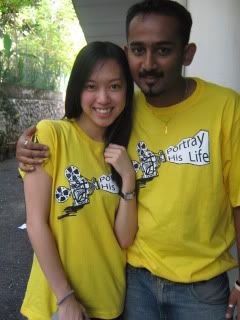 =]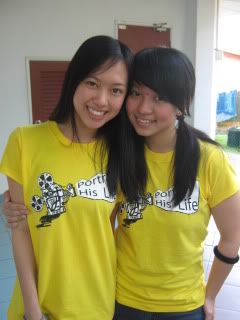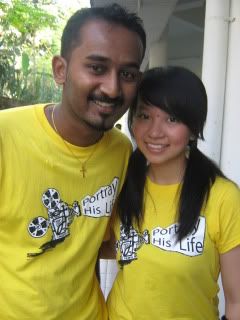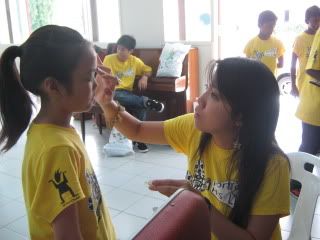 Tsu An doin make up for Ming Hui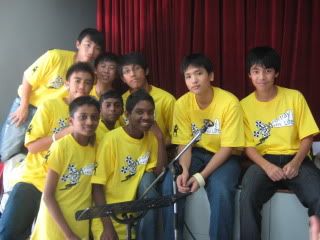 boys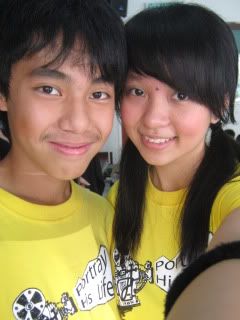 Nick Kam! like my didi only haha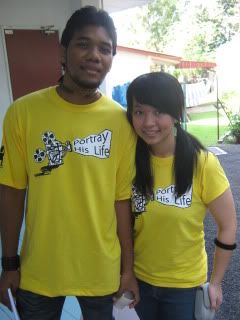 Yoggaaaan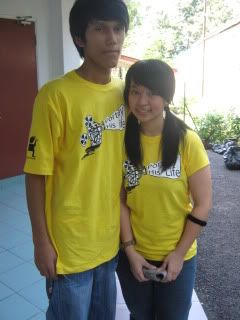 aaaroon!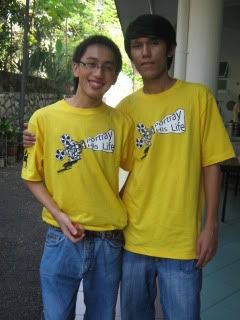 Jon tan and Aaron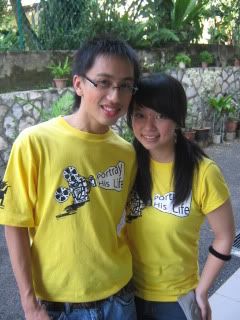 jon tan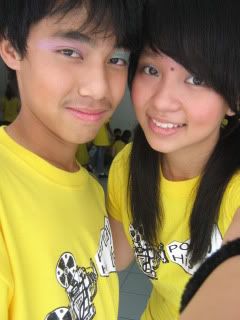 Check it out. pretty anot? hahahaha.. =)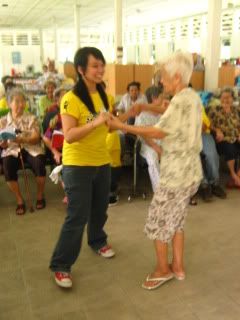 Went to King George VI! and yesh was dancing with an old folk. =)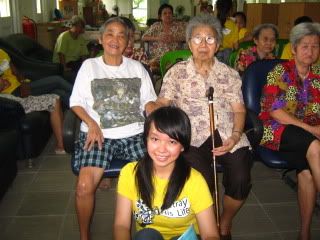 i found back the aunty i talked to last year!! Ah Ngo!! and i met a new friend! bethra! =) the one i met last year is the one with the glasses. hahaha.. =)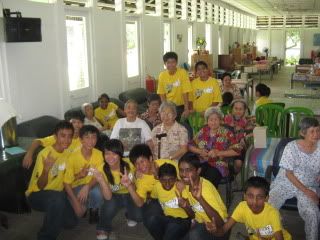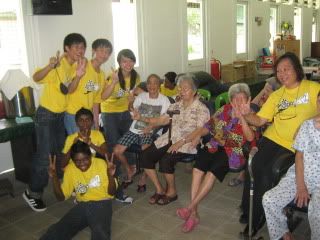 I teach them do the peace sign. =)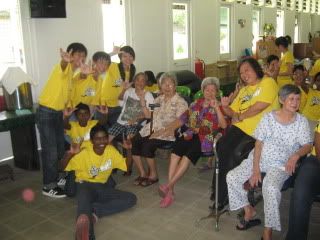 Also teach them do the I love u sign. :D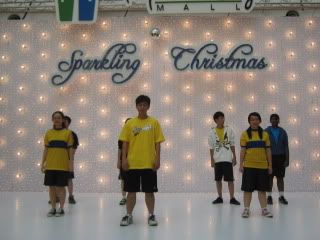 Tropicana city mall! our first mall in outreach! i loveeeee the stageeee!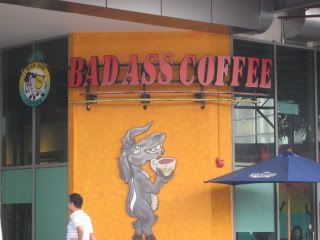 on the way back to the bus i saw this. hahaha my first time seeing it. =P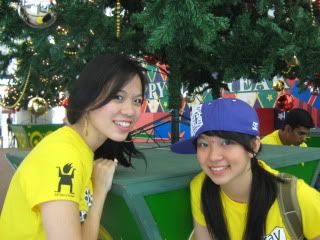 then we performed at IOI mall twice at two slots. :D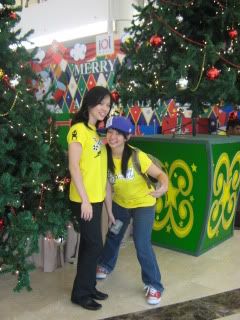 Jan!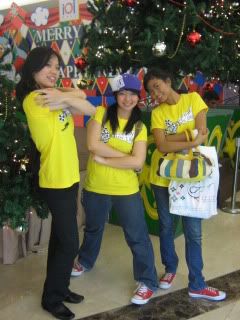 Supp? =)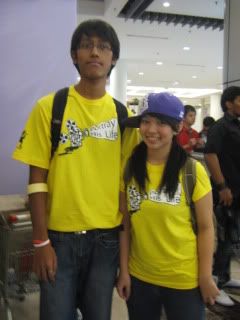 Alex! my bus partner!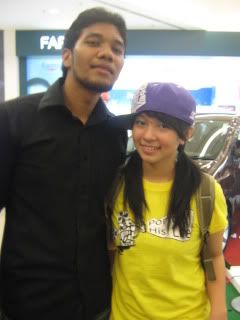 yogan! sit behind or infront me one. hahaha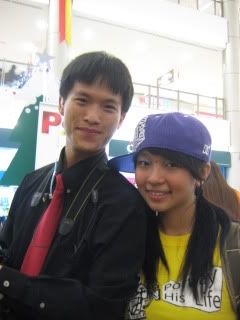 Josephhh! =)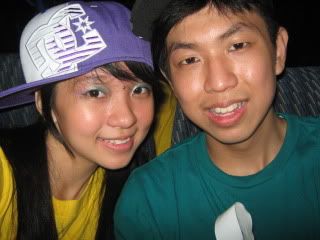 benson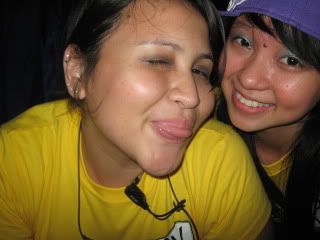 andrea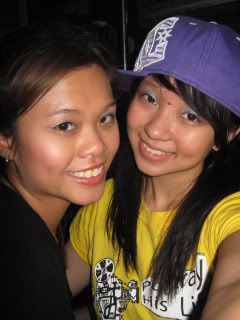 sharon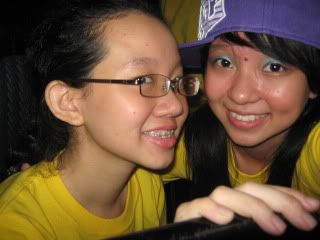 Michelle!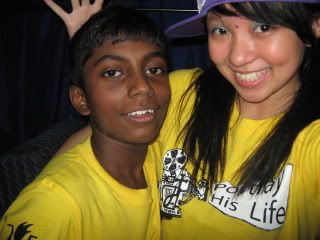 Hari Hara serious. thts his name. xD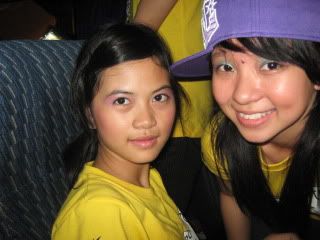 jessica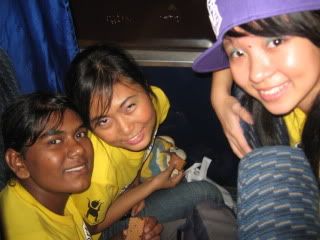 miriam and angelina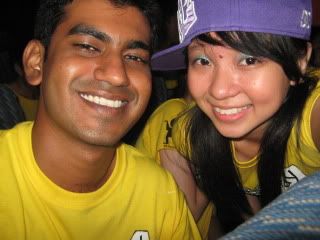 joshua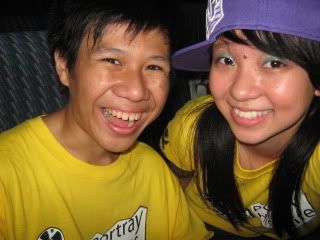 happy joel.



joe and yee wei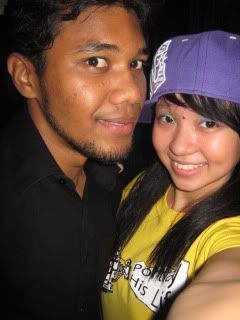 prepare yourseleves for yogan and celine's camwhore moments! =P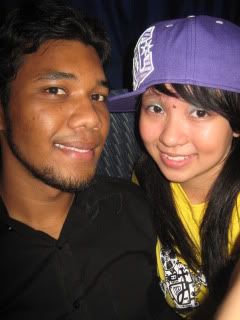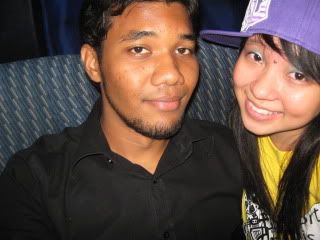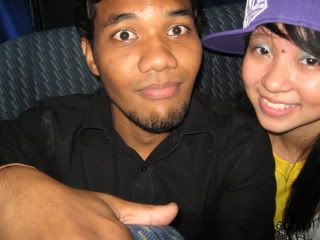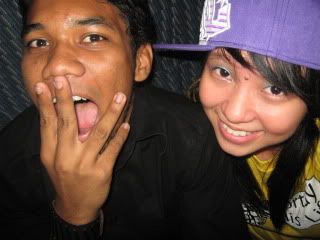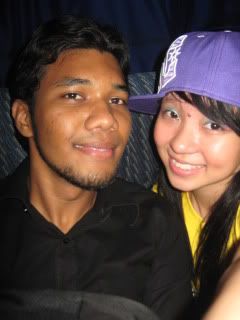 xD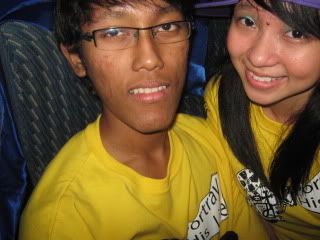 Aleeex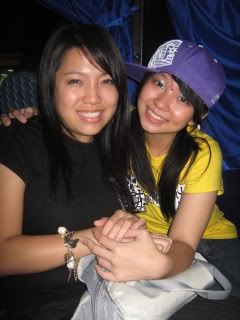 Tsu Ann she designed our shirts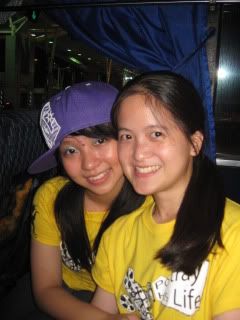 melissa my first bus partner on day 1!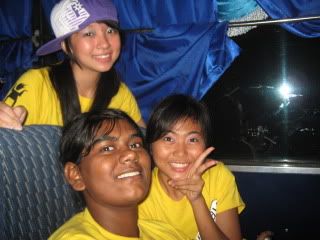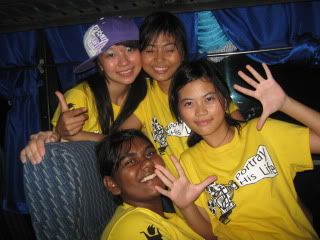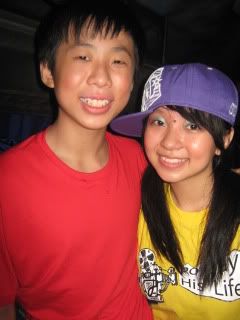 BB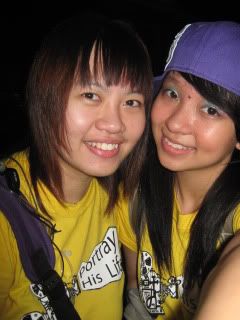 Evonne!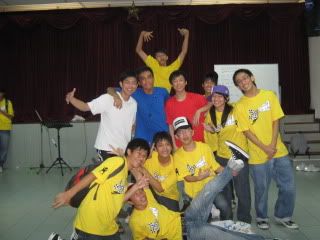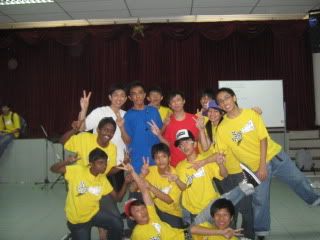 Boys =)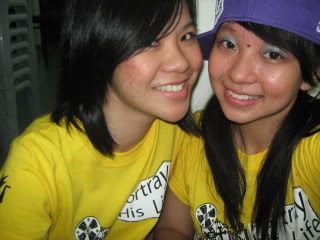 My camp com. =)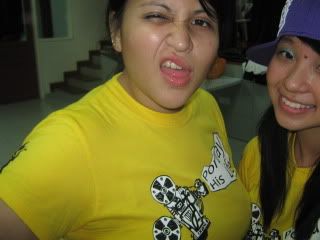 Fight ah?!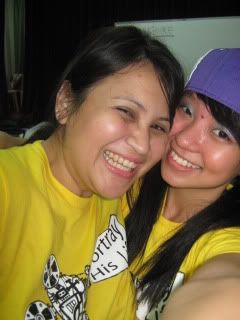 JK! =P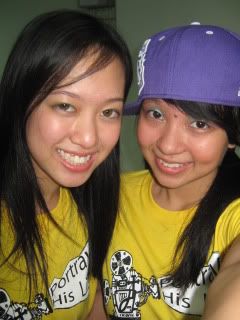 nat nat! =)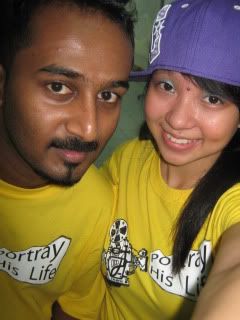 suggieeee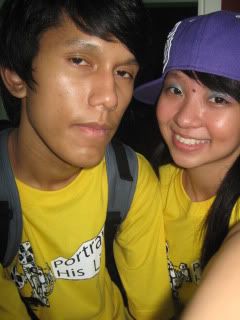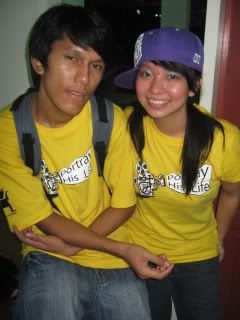 aaronnnieee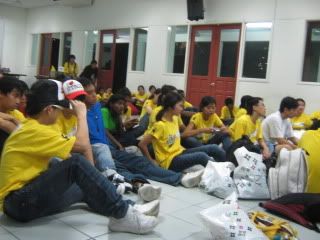 During debriefing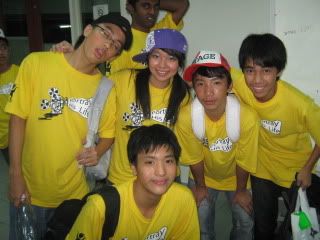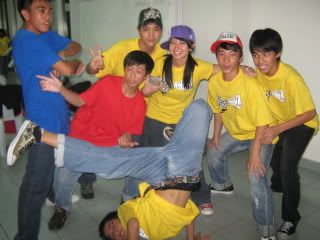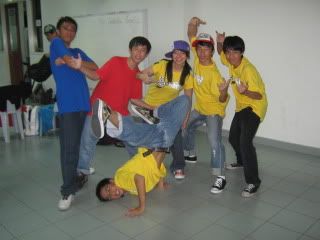 Yo!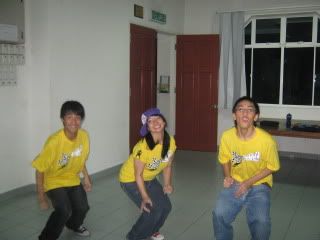 our attempt to jump failed. tho the picture came out reli well. :D

Next day, 12th, Saturday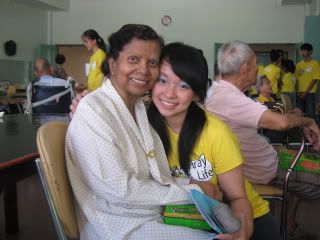 Went to Cosy home, and i found back my old friend also!!!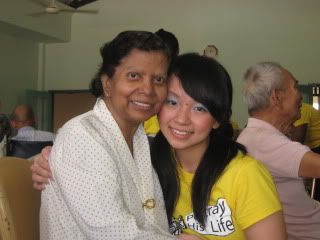 aunt christina! she was so happy to see me! the minute i saw her i ran to her and hug her..
Celine: Hello! rmb me?!
Christina: Yes.. yes my dear.. i rmb u by your smile.. :)
Celine: *omg so touched. Sniffx*
Seriously! so happy to see her and i bet she was too. =) last year when i met her she just only went into tht home but she's much better nw. =)

then we went pavillion! but b4 tht we also went to rumah charis old folks home and rumah charis childrens home too. i made new friends at the rumah charis old folks home. the lady with nice skin is called ah peng, then one with young face is called ah ngo!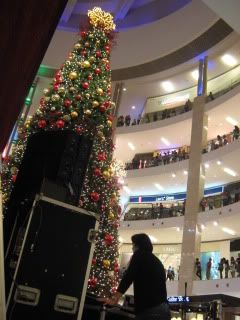 huge christmas tree! was quite nervous at pavillion coz everything was so grand and before our show there was a professional performance going on. felt so inferrior. O.O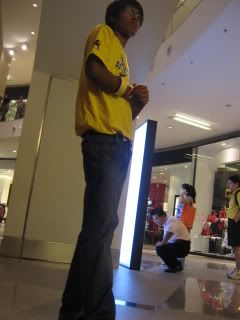 candid shot of alex. he was standing beside me so i just.. =)snaped! he looks so lengthy. thts coz he is! haha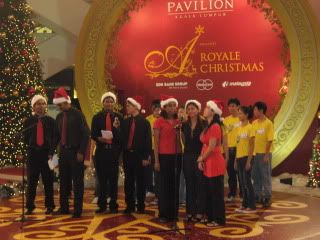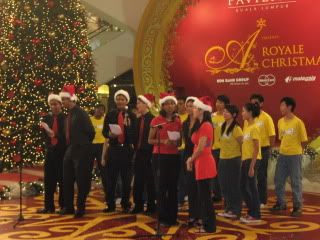 carolling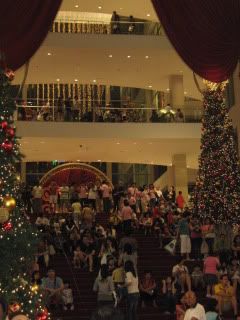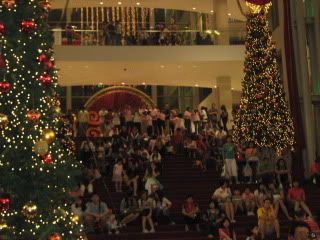 the crowd after the show. imagine during the show got how many?! O.O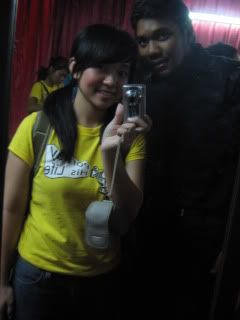 in the changing room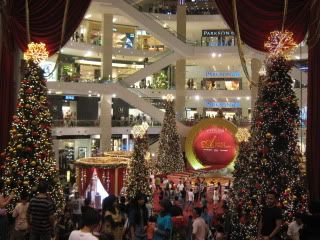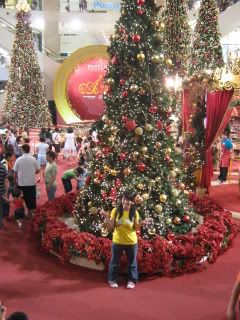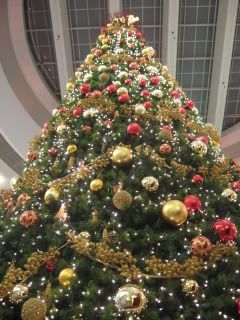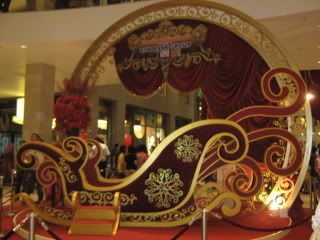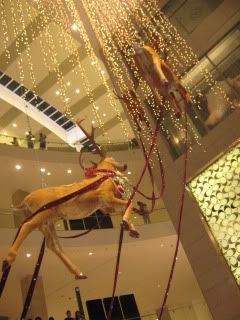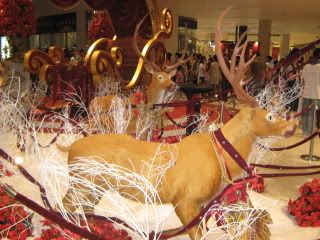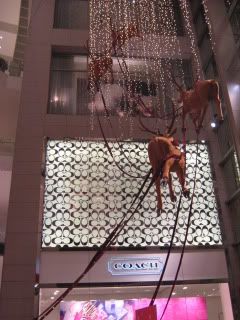 Decorations! awesome man!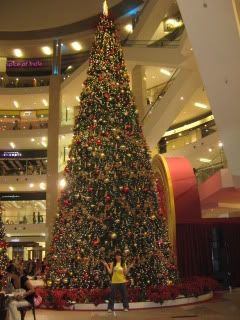 SUPER HUGE tree! i look so puny! hahaha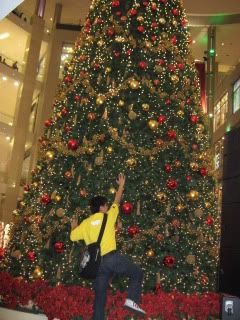 all the best climbing tht tree benson. =P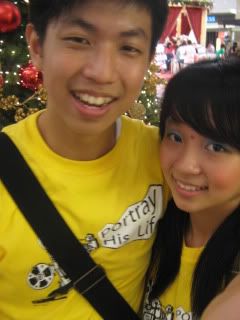 =]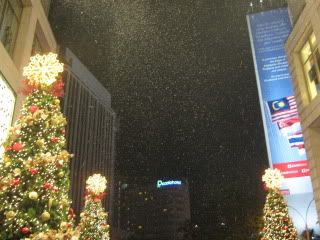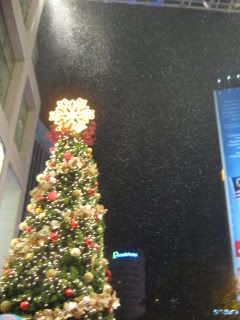 they had some "snow" thing but it was just soap. lol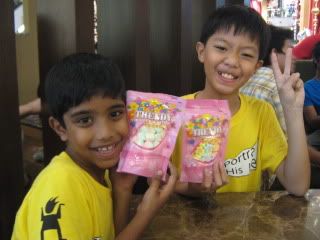 Joshua and ian happy with their marshmellows!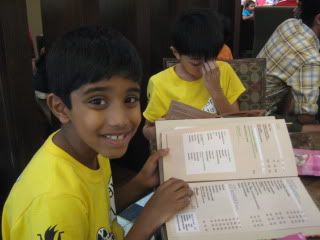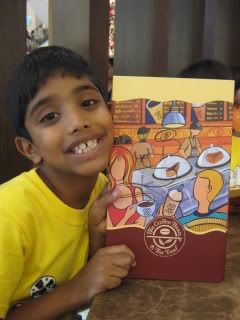 They looking at coffee bean menus man. xD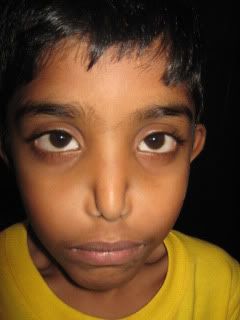 check out his nose. i can do tht man. O.O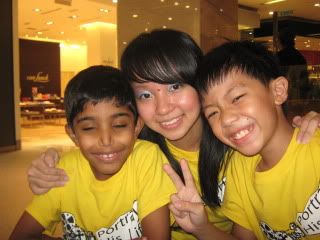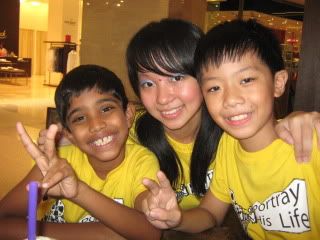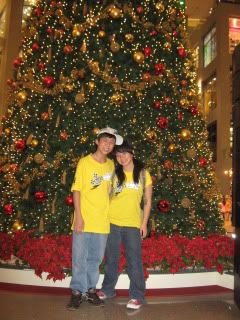 awww.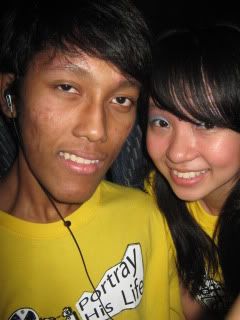 bus!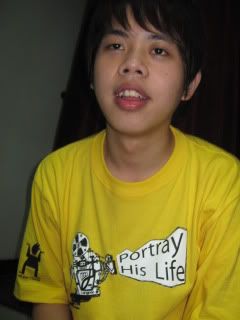 calvinnnn!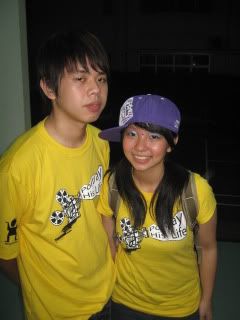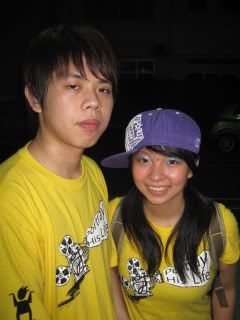 oh yes! calvin came for second day outreach. forgot to say. hahaha. :D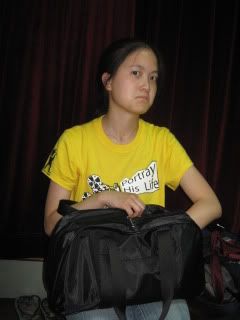 mel muka masam!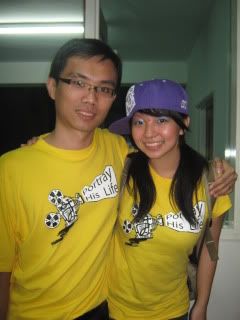 danny boy!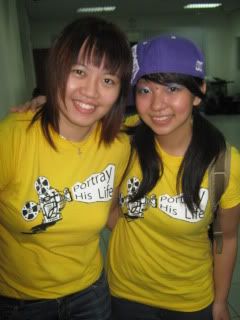 von!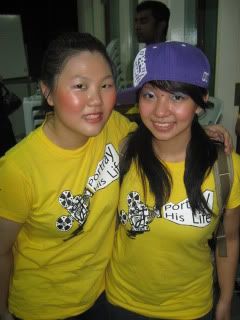 gwyneth!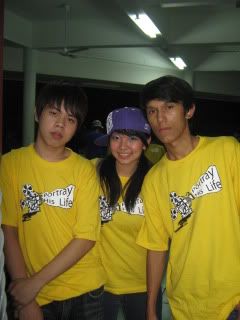 the 3 of us. =)



dear. =)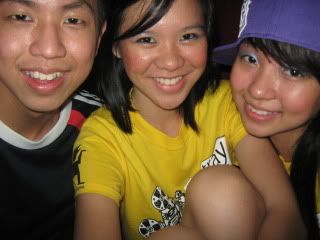 =)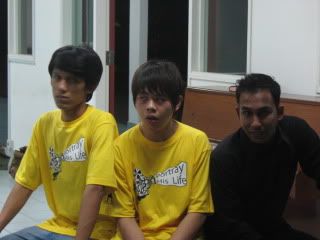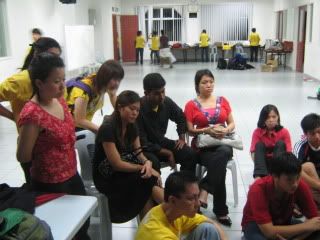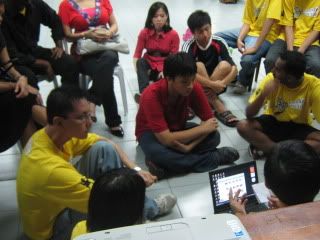 kena marah tht time. look at everyones face. hahahaa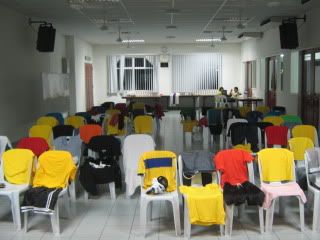 airing the shirts. :D if not smeeeewwwy man!

Next day, 13th,sunday. last day of outreach!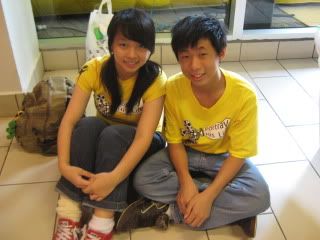 I hurt my ankle again like 2007 tht time. T_T but like always, i'll dance no matter wht. :D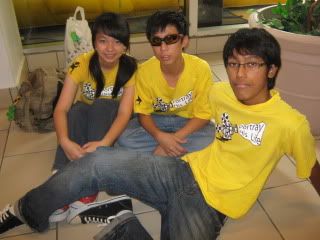 heee. alex help cover my ankle. xD
dancing with the bandage was so ugly. =P bleeehh.. but my leg getting better nw.. =)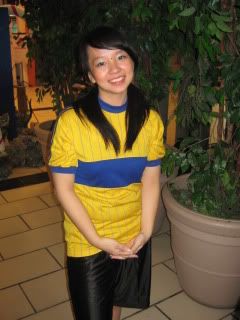 before going on stage at IKANO. =)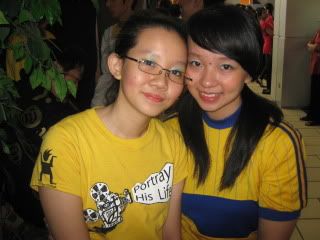 michelle! she gave me massage before going on stage. haha. =)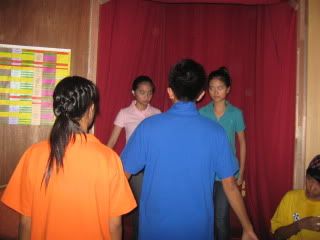 at sunway pyramid, backstage before going on stage. =)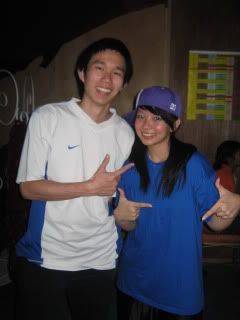 derek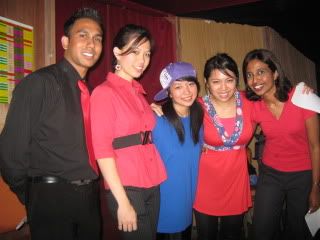 dhanyal, janning, celine, tsu ann, jamie!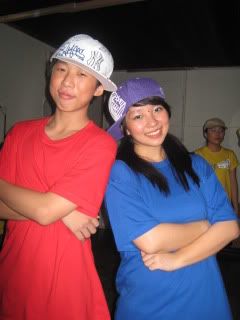 BB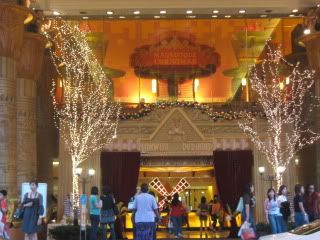 Pyramid. =)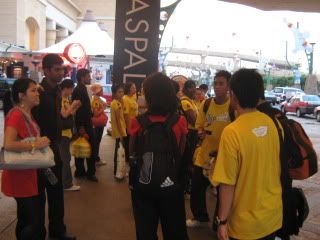 waiting for bus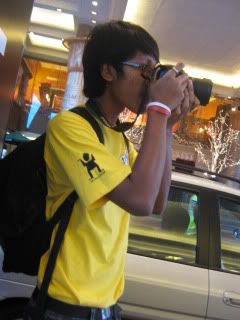 alex dun wan use my camera edy. he say he upgraded. LOL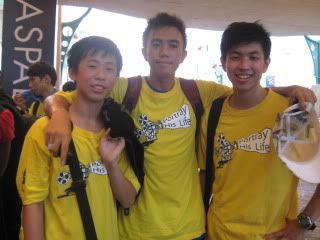 brothers and joseph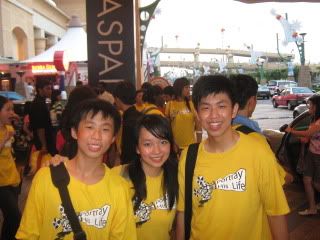 brothers and I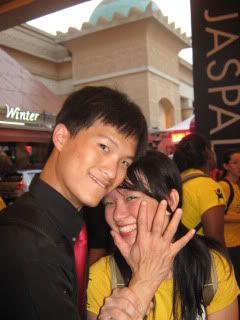 Joseph! =) you know.. i took so many pictures and videos that my memory card became full.. and i used up two of his memory cards. if not for him, all these pictures wouldn't be here right now! =) thanks alot joseph!
Then we went to subang parade, our last venue for outreach! =) it always ends at subang parade. hahahaa... and some scene happened while we were bout to go on stage and while some friends were already on stage performing a girl was chasing a guy shouting PENCURI!! then derek to the rescue! hahaha.. yeah whtever it. =P bleh. nth big ANYWAY. =P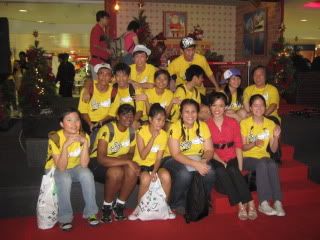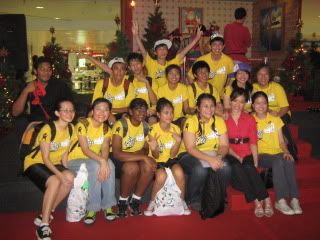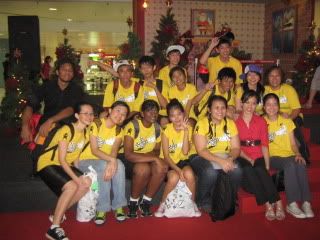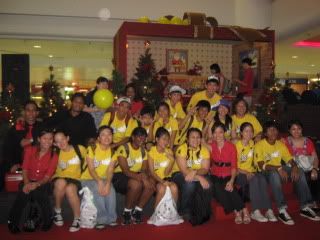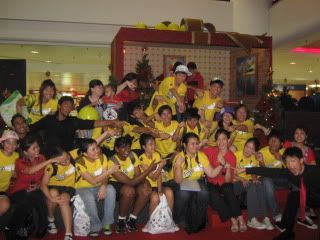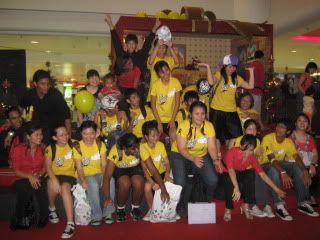 Then i suggested, lets do the afc logo!



whee! =)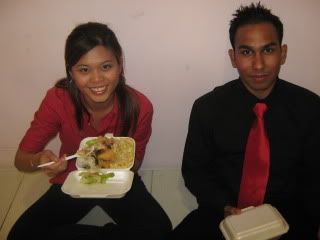 eating after performing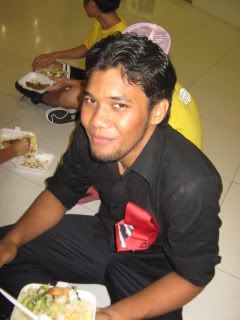 =]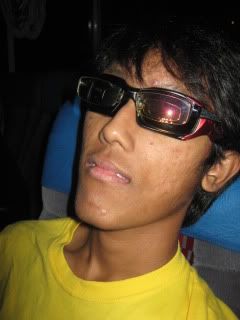 yeng anot? my idea wan leh! he wear his specs over the sun glasses coz he cant see. haha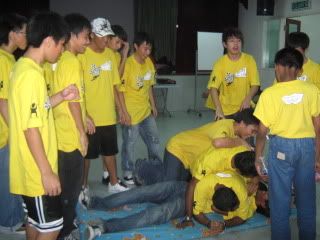 reach back and royal rumble happened to alex and calvin! hahaha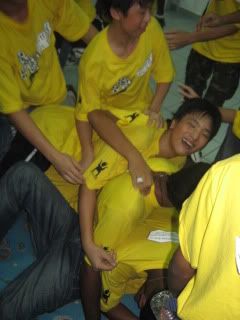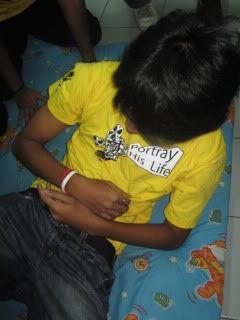 poor alex. we were just talking on the bus about how he never kena sabo all these years. xD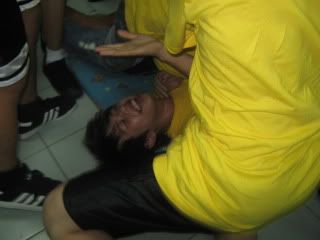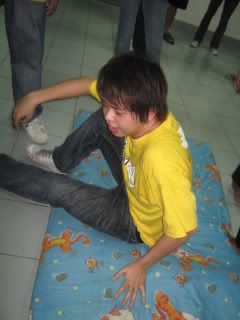 then calvin kena. hahahah..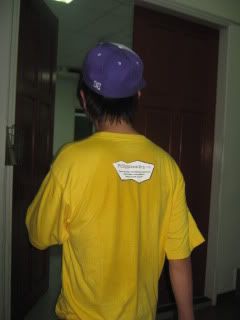 calvin took my cap and wanted to leave with it.. but he din wanna gimme back! x) then he told me that he was gonna come back to stayover! =)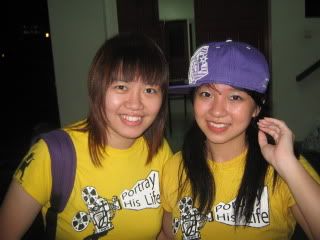 candid shot by calvin. hahaha coz my hair was messed up and i was putting nicely then he snapped. but i like the picture. =)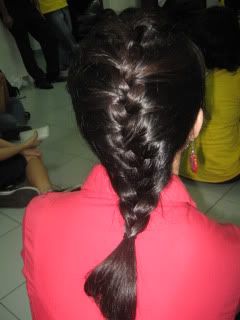 jan's hair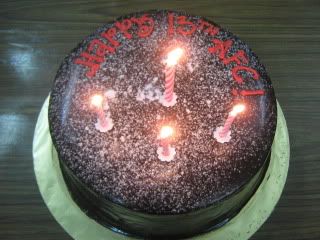 on 13/12/09 AFC turned 13 years old!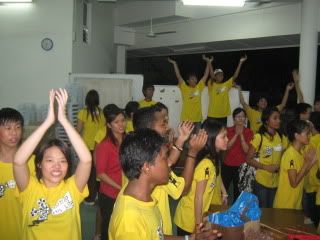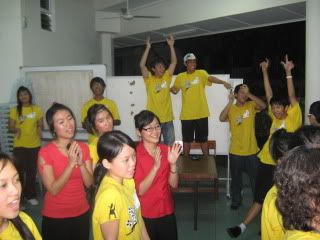 everyone singing happy birthday. haha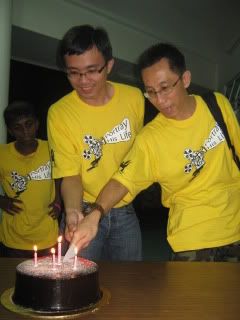 jason founder of AFC and Daniel, the current president of AFC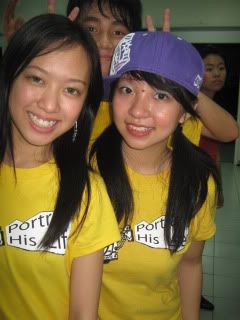 natasha wit her brother, nick behind. xD kacau jeee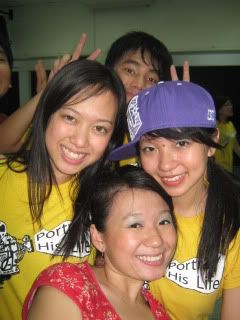 + qian. =)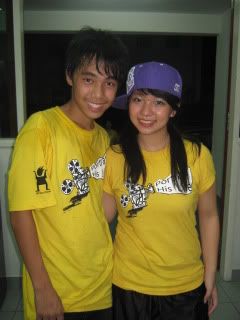 naughty mischevious yet sayang-able nick.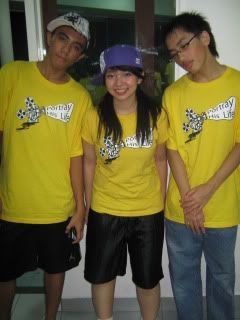 xD?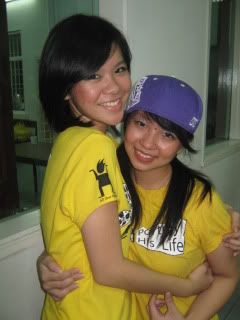 my loveeelayy!



jov and dhanyal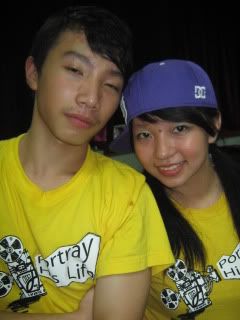 jon ur always so sleepy in pictures. =.=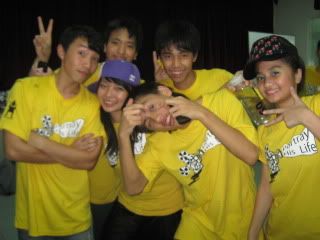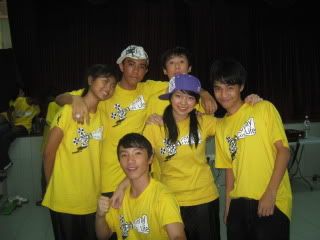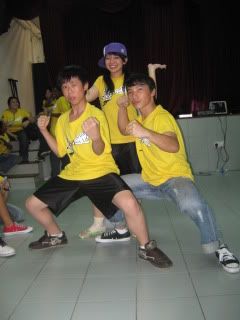 fight ah? xD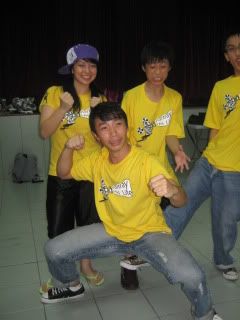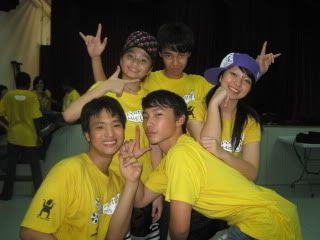 check out jon's sexaaaay buttt. xD ask him pose model he go stick out his butt like tht. hahahaa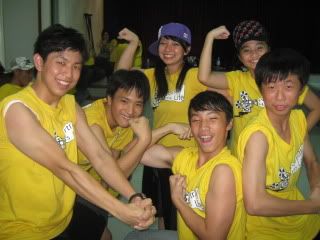 Macho!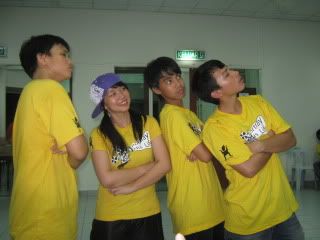 look! x)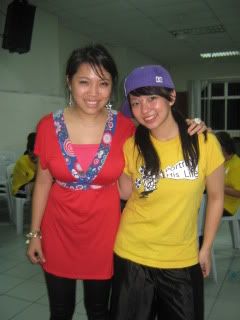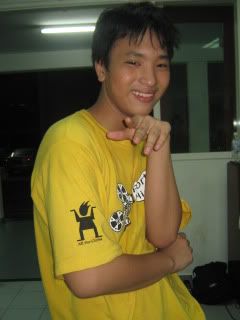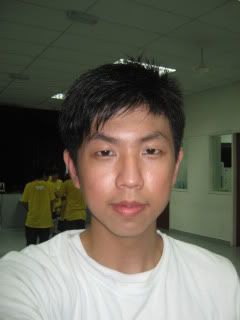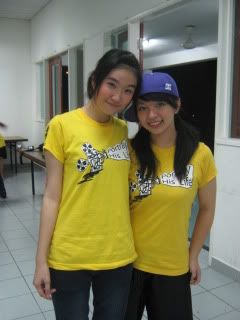 Li Nar =)

so everyone stayed up till very late playing and all.. and after everyone had finally go to sleep.. aaron,calvin janning and i were still awake chatting in the kitchen.. so was joe and angelina.. lol... then me and calvin heard music so we went to check it out.. then saw joe and i go kacau.. and watch them till angelina finally go slp. me,calvin and joe went back to the kitchen and aaron and janning had fallen asleep! xDDDDDDD



so aaron was our first victim.! hahahaa.. calvin started with the lipstick. =P



i did the eyeshadow! hahahaa. sry aaron! =P well he was the only guy i sabo the rest i just take picture oni! =P
So we went to guys dorm and ask joe he sabo who with colgate edy coz wanna take picture.then nick woke up and saw us. then he thought i sabo him so he ran after us when we ran out the door and he kena me with colgate. T_T nick kam! u ahhh.. ish..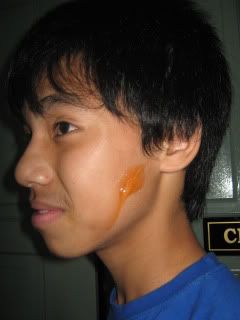 nick. lol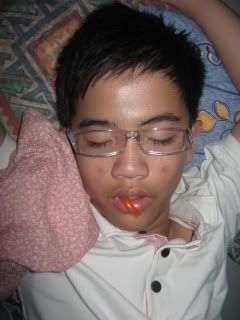 zi an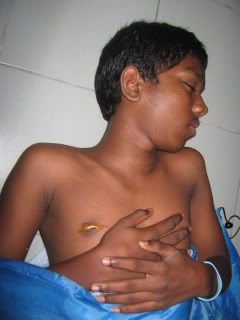 lol samuwell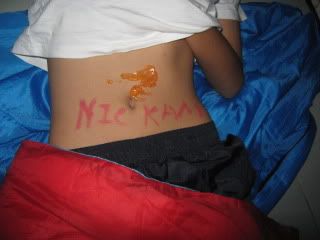 yee wei. xD calvin is the lipstick man lah. hahahaha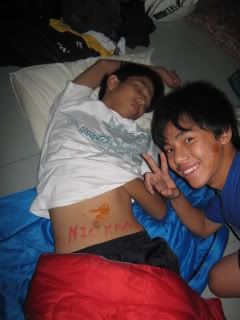 lol =.=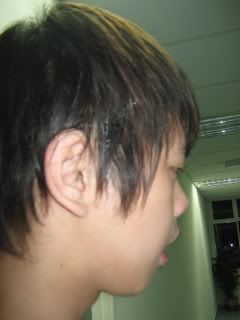 so when they wanted to do zech he was facing his face down so they wanna pull up his shirt.. so they put pillow beside just incase he wakes up. so when he did wake they act like they sleeping.. and the pillow calvin took had colgate so his hair kena.. hahahaha.. then they try again and zech woke up this time and said..
Z: Calvin? wht u doing here?
C: uhh.. sleep walk ah sleep walk.. *get up and walk out*

i tell u i was laughing like crazie wei but trying so hard not to burst out in laughter. hahaha.. =P and the best part is that zech believed. O.O xD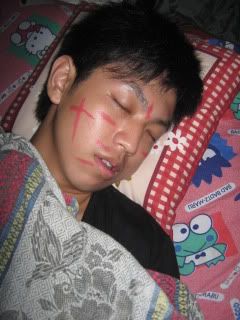 so benson suppose to go sabo them with the guys.. sabo girls la. he bought shaving cream and everything just for this night but he fell asleep. so we sabo-ed him instead. wahahahaha.. so i slept at 6.30am.. and jov asked me why i wake up so early when i was abt to slp. i just laughed and slept. haha!
but darn! when i woke at 7.10am like that.. i kena sabo edy.. everyone was awake except me.. omgggg man! i kena shaving foam and lipstick.. worse part is they put on my hands i din know and i wipe it on my face. ohhhh myyy goodnessssssss! then i woke up the guys were outside the stage at the hall sugin talking to them.. then he saw me and said HI CELNE! NICE FACE!!!! xD then they blame calvin and aaron and i blur blur reli tot it was them.. so when i went to the kitchen benson said.. Nah! shaving foam go payback!!! then i tot it was reli them la.. so i hand two handfull of shaving foam sneak up to them and give it to them in their face. later did i know that the person who sabo me were my brothers! OH MAN! so sorry la aaron and calvin! =( i felt so bad after tht. coz i sabo with them and in the end i kena them. xD summore they stayed awake so tht they wont kena and in the end i kena them. =/ dui bu qi!!! =X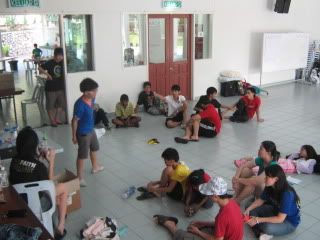 so yeah.. last day.. everyone packed up.. took alot of pictures...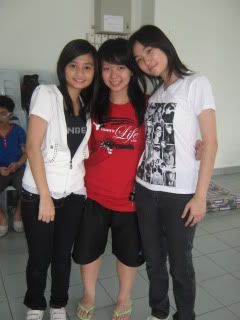 chelsea and Li nar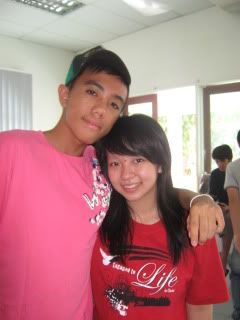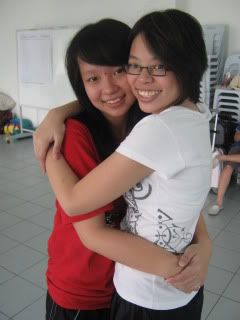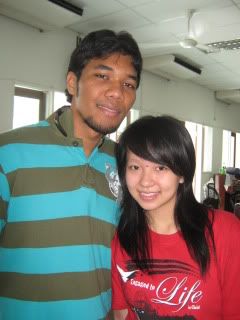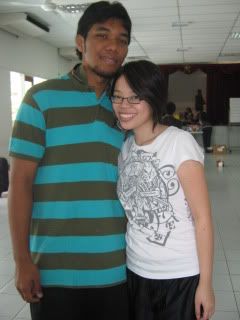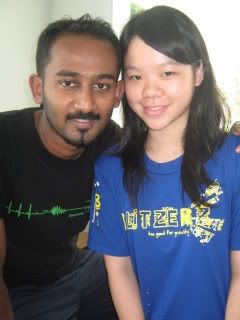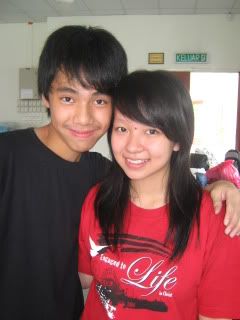 Di Di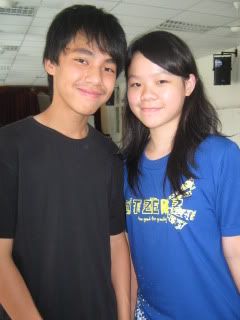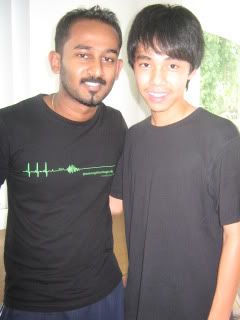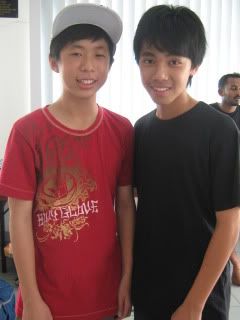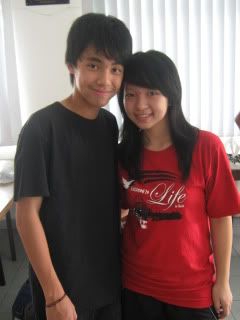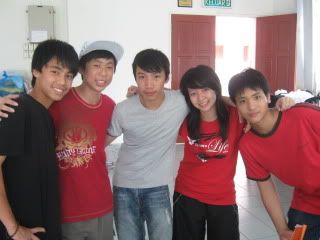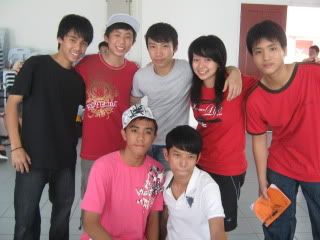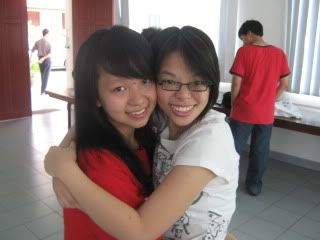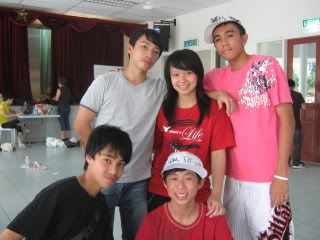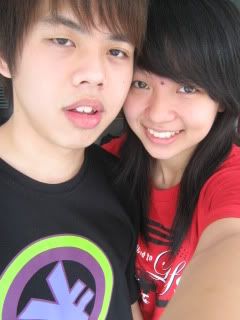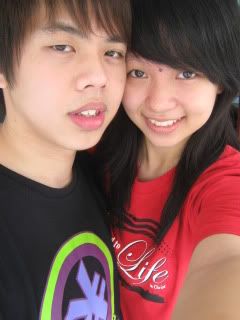 Calvin! this is our best picture together for now! hahahaa.. see! u look nice when you smileee.. :)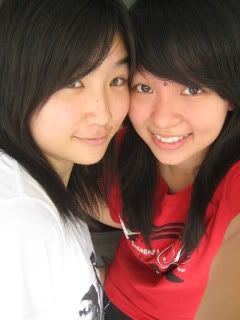 li nar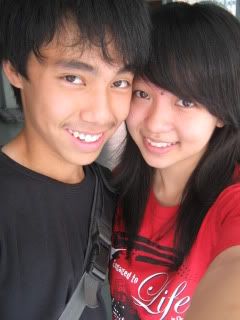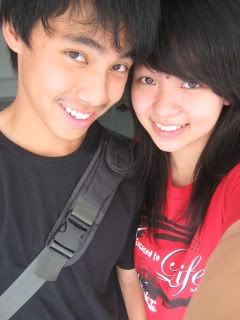 nick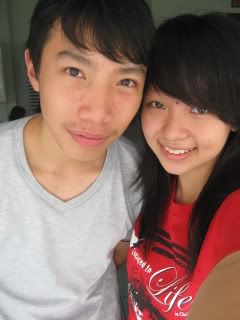 jon finally nt closing eye. =P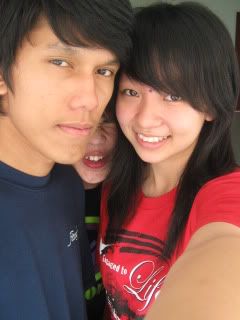 aaron with calvin behind! hahaha.. funny laaaa..!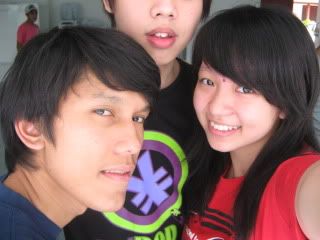 would've been a nice picture but calvin din bend down!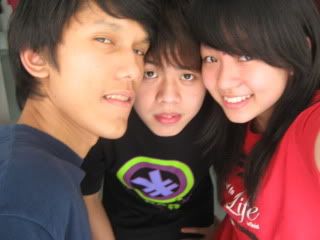 the 3 of uss! =)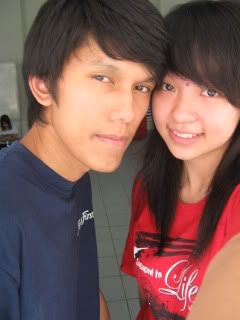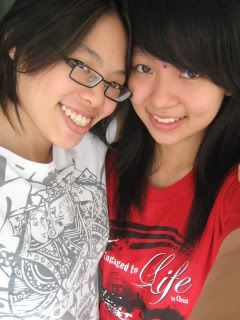 My dance partner yo! =)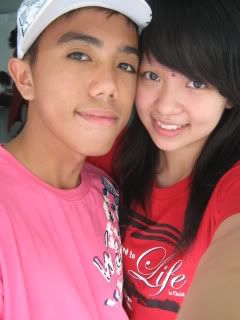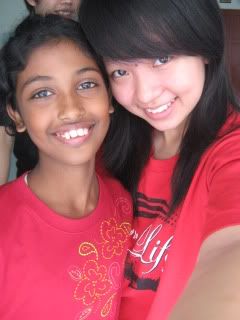 see calvin behind there again! xD this is gaya!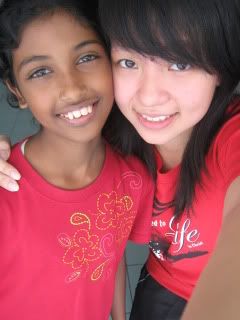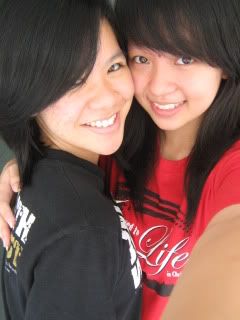 My dear. =)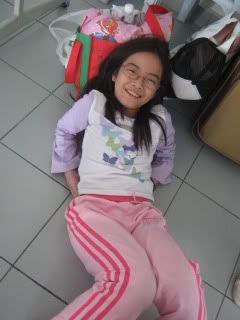 ming hui such a cutie!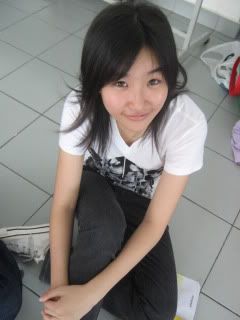 li naarr!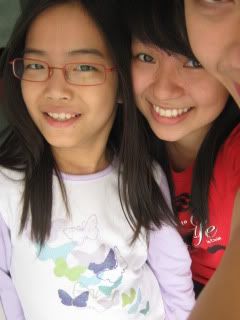 calvin kacau again! xD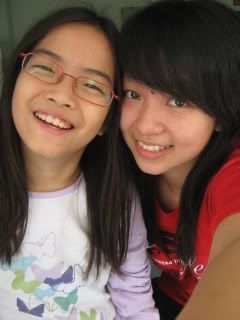 isnt she adorable? =)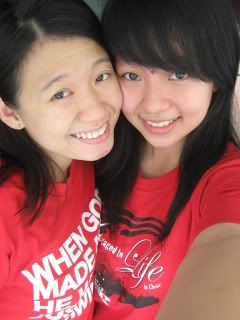 QIAN!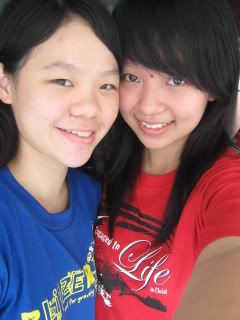 Jesslyn! teach me your song! i love the chorus! =)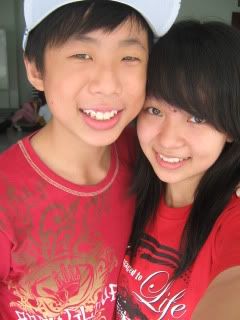 bb!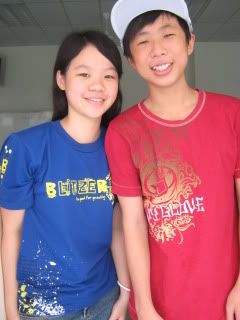 Jess and BB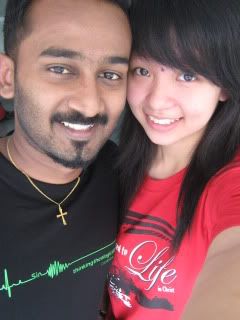 Sugin!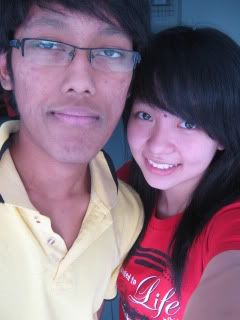 alex! my camera suddenly became blue-ish. quite cool. :D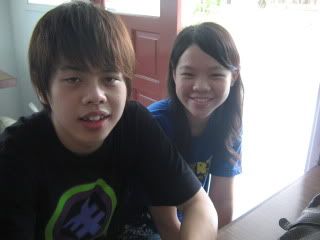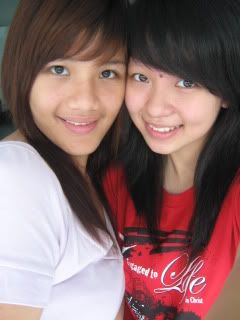 Dorothy!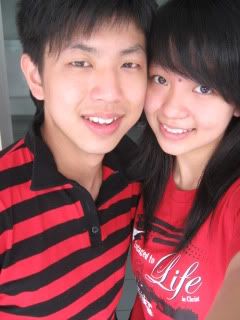 Benson =)
So yeah. that was camp for me.
aftr camp we went a&w. a few of us la. =) and some of us stayed overnight for one more night.. and left on the 15th. =D it took me two days to finish this entry man. sometimes i wonder where i get the patience from. =P
toodles! =)
[
As many times as I Blink I'll think of you.. tonight
♥ ]